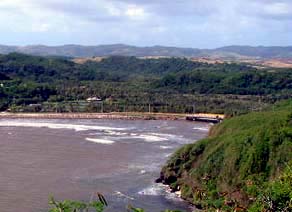 "If you look at the Southern villages," Joe says, "you can tell if you're entering a village by two things. One, there's a sign that will let you know that you're entering that village. And the other is that normally that sign will be either next to or close by a river. A lot of the old folks would say, even if the division is not on a river today, traditionally the division of two principalities has always been on a river."
"So you know you're entering Inarajan when you cross the bridge at Talofofo. Talofofo Bay is not necessarily historically important, but it is well visited by not only locals, but by visitors, because it's the only bay that has waves breaking that local people can go in and go surfing. Right at the mouth of Talofofo is a sunken ship."
"You know when you're in Inarajan"--the village proper--"when you start to feel a little bit of the Spanish barrio streets: the situation of the homes, the architecture of the homes, and the large church structure."
"As you leave Inarajan, you can see how the boundaries occur here, the boundaries between villages. Not only your modern boundary, which is a sign telling you that you are leaving that village, and that you are welcome to the other village, but also, again, there's always a river that would delineate the municipality between the two villages."