"Oh yes, we had the rice field," Tan Floren remembers, "now it's mostly houses there, but before, on this side and on this other side at the end of the village, all this was rice field, you know. And behind the new In and Out store, that was the rice field. Always in the morning, at like four o'clock, we were there, hunting that rice.
"We used carabao to plow with, that's the only way, because we didn't have that machine, so the carabao had to pull that plow. It makes it soft, so all we do is just to plant that rice. They put a line, so all you have to do is just plant it in on the mark, line by line."
"And then when it's time to harvest it, so many steps. The people would build something using bamboo. So when the rice is already dried, the people will put it up, and beat it so the rice falls down. Then they put that rice in a big lusong, and we get this stick, people pound it, and then the rice is ready to cook. It's hard, but the Chamorro enjoy working on it."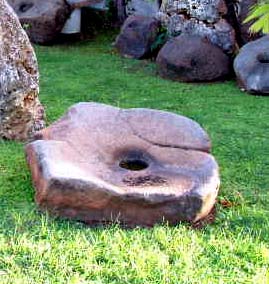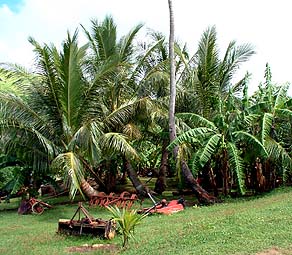 "Everywhere, the coconut tree—you don't have to plant, they just grow. When we visited my property a couple years ago, you could hardly walk! No one is coming to pick them up.
"Before, we usually went with my sister, and then we'd make coconut milk and sell it. We made money out of it, but not any more. It's too far, and we're getting old, we cannot go that far, or carry coconuts that far. So there's a lot of coconuts here; look at all the coconut around. No one is making coconut oil. It's kind of hard, you know."
"Breadfruit, orange tree, lemmai tree (seedless breadfruit)—there's all kinds of fruits, like the guava, tangerine, the åtes (sweetsop, or custard apple), laguanå (soursop). The Chamorro had all these kinds of fresh fruits.
"Some people planted sweet potatoes. In those days, you could see sweet potato plants around, because they don't take long to be ready to eat. I think they take about three months.
"The taro in the swamp, that's year-round. The small leaf, that is the good one. The big one is not in the water, it's in the dry ground. The more you pile a lot of dirt, the more taro you get. The 'Honolulu taro' is white, but the regular one, that purple one, that is good, too.
"And then we get a feast. We're lucky, eh? Just go out and get your net, and go fishing."