These two transitional periods are often referred to by combining the words "wet" and "dry." Rufo elaborates: "The 'dry-wet season' would be the June transition, because you're going from the dry to the wet. And the 'wet-dry season' would be December-January.
"In the wet-dry season, it's a cool period for Guam. If you're planning on visiting Guam, that's the time that I would come to Guam! That's the best time to visit.
"Then there's the dry season, for which I have heard the term used, 'somnakum.' Somnak is the sun."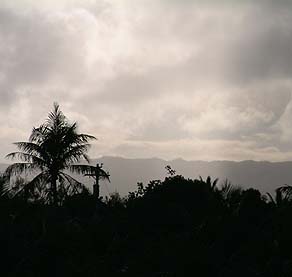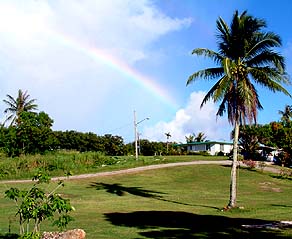 Ben Meno: "God the Father said to Noah, 'So it will remind me that I will not punish the human race and the earth, I will put the rainbow as our covenant.' And He did! But the beauty of the sun's ray is not just making color. Your eyes get to see everything, the beauty of your surroundings, yourself, your wife, your children."
"In April we have April showers. That's a short period there, and depends on the effects of El Niño and La Niña. But normally it's April. When you see the farmers here, they start preparing their fields for planting to take advantage of that April rain. We usually have about two weeks of showers, and that's sufficient. It provides sufficient moisture for the plants to grow and start flowering.
"And then the farmers have to irrigate, because the plants continue growing up until June and are harvested in late May or June, usually.
It becomes dry again after those April showers.
"Fortunately for us, this year [2002] is a wet, dry season. When you see the dry, dry season here, then you see smoke from the hillsides, fires."