"And there's a family down there by the beach, they had a lot of sweet potatoes. In our ranch, we cannot plant that, because there's no sand there. They need sand because it's not hard to plant that. So I walk by myself there, and I'd sell shrimp for sweet potatoes.
"I'm the oldest in the family, so I would have to go. My brothers were small. That's what we were eating. Even in here, even milk, you know, we exchanged the milk for anything they had. We had our own cows, my father raised cows, and even carabao.
"I had to go around like this with the bottle, I go around selling milk, and we make a little money with that, to get our things that we don't have. It helps."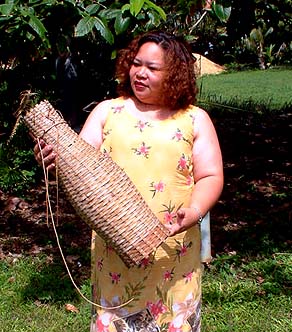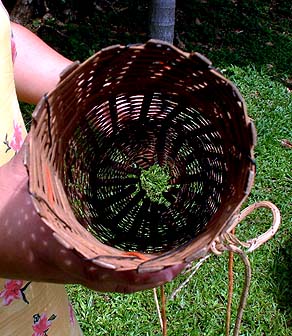 "Some people, they burned the coconut. But my father, we just grated it, and put it in a small, like a coconut husk, see there's a hole there. So my father would put it in there, we'd tied it around, and put it down in the river. We'd put it in the evening, then early in the morning you go and you could hear the shrimp splashing at the trap. And you put it down again in the evening, and you could pull out enough for dinner.
"Either you boil it, or you cook it with coconut milk and put in vegetables. Oh, it's good. Delicious. Or make it kelaguen. Now, you can just go to the supermarket, and get the box.
"Nowadays, I think none of them are catching the fish. In those days, the river was clean, but nowadays you have to be careful. You know, way up in the mountain, some of them might put poison, so we're afraid."