The Upper Valleys:
"Up above this zone in the lower valley, which extends all the way up to Limahuli Falls, we then have an upper zone, which is above the Limahuli Falls, and extends from about 1600 feet elevation, up to about 3300 feet, and that's the top of the ahupua'a.
"In this area we have found banana, taro, growing back up in there. It indicates to us that the Hawaiians were back up in there, utilizing it as a resource area, with no indication at all of any kind of structure or stone work. So whatever dwellings they constructed, they were probably just lean-to types of structures that were perishable and were used for just a week or however long they were back up in there.
"I imagine that area was primarily used by the bird catchers to harvest the birds. And maybe some of the kahuna la'au lapa'au, maybe there were some medicinal plants that grew up in that area that they needed. But generally, the plants that grow up in that area, for the most part, grow in the lower valley. Because of the rainfall regime, we have a transition of lowland rainforest that comes nearly down to the ocean."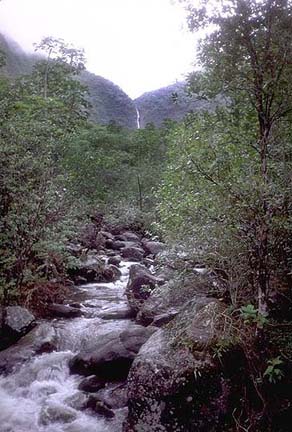 Limahuli Falls marks the end of the lower valley. Above the falls, the upper valley shows signs of transient use. Photo from the Hawaii Stream Research Center.