Mountain Rainforest:
"Then, in the very back of the valley, up above the waterfall, we begin the transition into the Mountain Rainforest, in which the primary dominant species is chyrodendron--'olapalapa is the Hawaiian name for it--and 'oma'o ferns, and things like that.
"There is a lot of overlap in these different zones, but there weren't a lot of resources in that upper area, because its so difficult to get to--it's not like you could go up there and get a canoe log and bring it down, or something like that--so my guess is that probably it was primarily an area for the bird catchers. It would have been a natural habitat for all of the forest birds up there."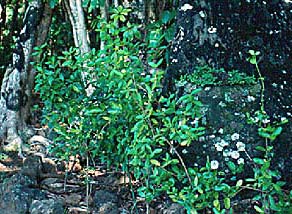 The native maile growing in Limahuli Gardens.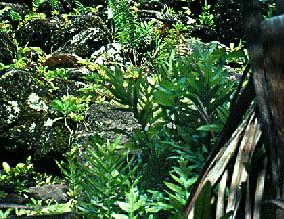 Laua'e ferns growing at the base of Makana.
Plants unique to Kaua'i --endemic plants--are found within these zones, including a few that are endemic to that area (found nowhere else). At Limahuli Gardens, these plants are being carefully reproduced and preserved.
Ha'ena is renowned for a native plant common throughout the islands, the scented laua'e fern. Here are some expressions from Mary Kawena Pukui's collection: