POLA (deck):
In my effort to make this as accurate a model as possible, I wanted the deck to contain the same number of boards as Hokule'a itself. I had looked at other models and seen that the decks on them had been made with wider pieces, making for much less work. But the results, for me, were not as satisfying. Here is the model in the NMAI collection:
Finally, here is the model Jay Dowsett and Tay Perry made for an exhibition at the National Library of Medicine: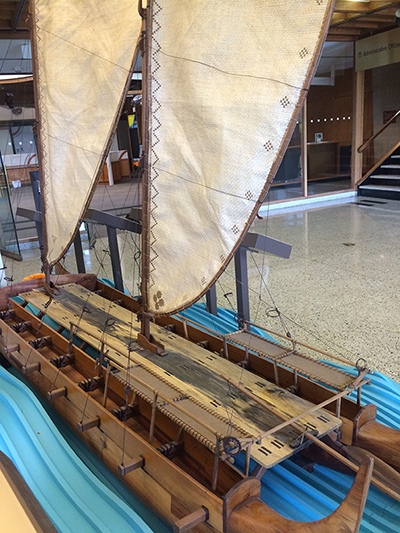 Much nicer, but only six boards. I used a photo I had taken of Hokule'a and counted 13 boards. So I got my small-milled poplar boards and ripped them down to the right width to fit 13 boards atop the 'iako, leaving a little room to spare—which, as we will see, proved very handy. I then marked out the positions for all the lashing holes, drilled them out using a drill press, and using my small scoop-chisel, cut grooves between each set of holes to countersink the lashing.
From there, it was a long and slow process of lashing each board to the 'iako, starting with the center board and working outwards. I did most of this during NMAI's 2016 Hawai'i festival, when the Hokule'a crew (of which I had just been a part) was presenting on their World Wide Voyage. Alas, their photographer took a slew of photos of crew presentations and hula dancers, but not one of me working on my model. But I am satisfied with how it turned out.