This land has been ranching country for a long time. In her book 'Olelo No'eau, Mary Pukui notes the saying, "E ho'i na keiki oki uaua o na pali," or "Home go the very tough lads of the hills." She adds, "these lads of the hill were the cowboys of Pu'uwa'awa'a and Pu'uanahulu, who were well known for their endurance" ('Olelo N o'eau #288).
"My mother's family had the lease on the entire lands of Pu'u Anahulu and Pu'u Wa'awa'a, six hundred and six acres," Billy says. "That was quite a bit of shoreline from the Kopulea boundary all the way to Kapalauau, which is just on the south side of Anaeho'omalu Bay.The land of Pu'u Anahulu is the northernmost land in North Kona, and it meets the South Kohola boundary just before you get to Waikoloa complex."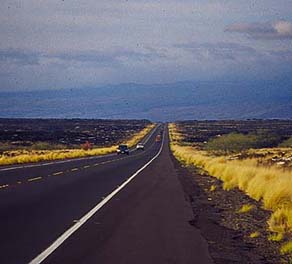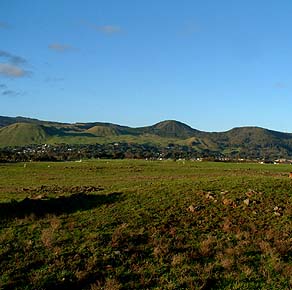 "Most of the cattle were raised above Kiholo, where we shipped the cattle. On the south side of the bay we had a little beach there and we'd swim the cattle out from there. My father would take feeder cattle to Pu'u Wa'awa'a. Over the top of Hualalai, we'd pick up bulls on the top of the mountain from the Pu'u Wa'awa'a cowboys, and bring them back to Kona over the top of the mountain. My first trip, I was five-and-a-half years old."
The Belt Road will bring you into the town of Waimea, also known as Kamuela, "Samuel." Some say the name comes from Samuel Spencer, a former postmaster here. Others say it is named after Samuel Parker, son of the founder of Parker Ranch. Parker Ranch, an enormous enterprise, owns most of the land up here, and has its headquarters in Waimea.
To continue to Kawaihae, one must turn left in the center of Waimea and head downhill. The descent is 2670 feet (814 meters).