Billy Paris:
"I am William Hauwawaikaleoonamanuonakanahele Johnson Paris, Jr. Born in December 18, 1922. My mother went to Honolulu, spent three weeks there while she gave birth to me, then at three weeks of age, I came back to Kona, which has been my main place of life since then. I went to school in Honolulu, and served a stint in World War II, ended up fighting in Europe.
"Isaac Davis' nephew, John Davis, married my great-great grandmother Tutu Kauwe. She was the daughter of a chief and the chiefess who ruled the southern part of Kona and the northern part of Ka'u. She and John Davis had two children, Charles and Eliza, and Eliza married my great grandfather William Johnson. They had five children, including my grandmother, who was one-fourth Hawaiian, and she married John D. Paris II, the son of John D. Paris I, who came to Hawaii by mistake. He was a missionary scheduled to go to the Oregon Territory.
"John Palmer Parker had his daughter marry a man by the name of Fuller, and they had my great-great-grandmother, Martha Kekapaoka'ahumanu Parker. And Martha married John Low, who is my great-grandfather, and they had about six children by that marriage.
"Kona has been my home. I still do cattle ranching, along with other businesses."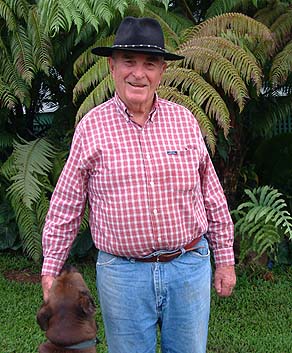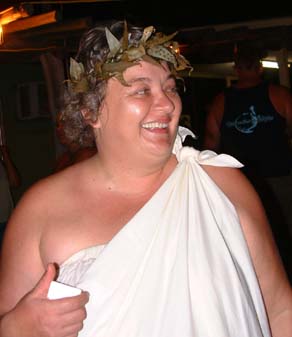 Ku Kahakalau:
"I was born in Honolulu, but I have a lot of family ties to this island. My great grandpa used to farm taro in Waipi'o, and so it's kind of coming home after two generations. Today, I'm the Director of Kanu o ka 'Aina charter school. That's one hat that I wear. I'm also the President of the non-profit that is developing a womb-to-tomb educational model here in Waimea, based on indigenous pedagogies
"This now involves an age zero-to-five program, our K-12 school, and currently a teacher certification program, but that will expand in the near future to a Hawaiian university with other subject areas. Right now we're just doing teacher education but we're really looking at expanding that, so I am very much involved in that as a founder of all those various programs.
"Our overall mission is the creation of a system of Hawaiian education. Currently we serve a thousand students on three islands, presenting a radically different way of education that's actually very similar to how our kupuna learned before, but also aligning itself very well with some of the latest in twenty-first century educational paradigms. It's really exciting."
Marion Greig Kelly:
"I was born here in Honolulu. I am not Hawaiian, but I am part Polynesian. The name Greig is after my great grandfather. He went down to Rarotonga, picked up a family, and married the young girl in the family. They started a Coconut plantation on Fanning Island and. So my father is from Fanning Island. I also have relatives in Kawaihae—Eddie La'au is a relative.
"I lived for quite a while in my young life on a sugar plantation in Waialua. I finished a degree at the University of Hawai'i, then World War II came along. I got married during the War, and right after the War, we went to New York City, where both of our children were born. Later we came home, and I finished a Masters degree at the University of Hawai'i.
"Kenneth Emory hired me at the Bishop Museum. That's where I learned a lot about the Mahele. Later we did excavations, first at Kaua'i, then at South Point, Ka'u, and many other places. My work on the Hawaiian Islands was very important to my understanding of what happened to the land.
"Now I'm 86 years old."