What is certain is that in historical times, the village of Kawaihae resided on the shore, and spread across the boundary of the two ahupua'a. Loebenstein's 1903 map of Kawaihae 2 ahupua'a clearly shows houses and properties on both sides. The Pu'u Kohola heiau complex lies in Kawaihae 2, while much of the village itself lies in Kawaihae 1.
Also prominent to these land divisions is the presence of upland settlements. These are collectively known as "Kawaihae Uka," or "upland Kawaihae." In the mid 1800s, this became two communities, as designated by separate churches. One was called Horepa (after the biblical Mt. Horeb), but which became "Hoepa, as it is known today.
The other site retains the name "Kawaihae Uka," though the missionary of the time called it "Makela," after the nearby volcanic cone. Both communities were vacated in the early 20th century.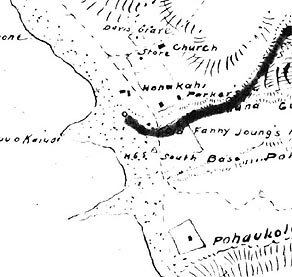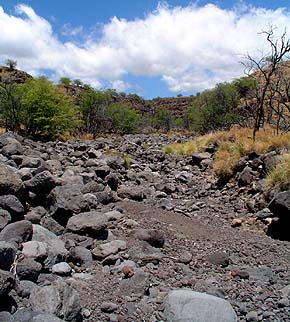 Due to the extremely dry climate (Kawaihae is the driest area in the entire Hawaiian archipelago), Kawaihae manifested these distinct upland (farming) and coastal fishing communities, with families having relatives in both places. In between, the land remains very dry and gets little use, even for grazing.
Honokoa Gulch is a prominent physical feature in the area. Here, there are no permanent streams today, but many deeply gouged gulches speak to large volumes of water in the past, or perhaps seasonally. Honokoa gulch is the deepest of these, and becomes a sheer-sided canyon very quickly, up from the shore.
Today, these gulches are populated with feral goats, whose surefootedness allows them to navigate the steep rocky cliffs and gulches.
It is noteworthy that Kawaihae 1 extends not only to the top of the Kohala mountain ridge, but even over the back of it into the wet forest area on the Northern side. This suggests that this additional forest area was necessary to provide all the resources needed for Kawaihae, and speaks to how dry this area is.
Across the top of the mountain, within these ahupua'a, are a number of prominent volcanic cones, whose profile distinctly mark the skyline of Kawaihae. These cones mark the rift line that runs the length of the Kohala mountain. Other prominent cones are found right within the town of Waimea, a growing urban center located in the uplands above Kawaihae.