This automobile journey takes perhaps half an hour from Honolulu airport (depending on "rush hour" traffic. Because one is travelling fast, one might not realize that the junction of H-1 and Pali Highway also marks a division between bustling downtown Honolulu on the makai (ocean) side, and the lush and quiet Nu'uanu valley on the mauka (mountain) side. It is this juxtaposition of the modern urban environment with the traditional and historical landscape that characterizes Nu'uanu.
High-rise apartment buildings and freeway ramps mix with old Japanese temples, schools, and monkeypod trees. Fast transportation or clogged traffic give the Honolulu area a character far different from the gentler regions of this and other islands.
Now you are ready for your arrival.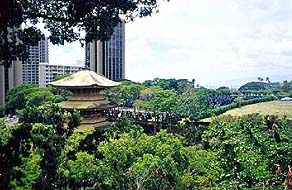 The "scenic view" from the Pali Highway shows the transition between Honolulu's urban core, and the quite of Nu'uanu. A cluster of cemeteries mark that transition.