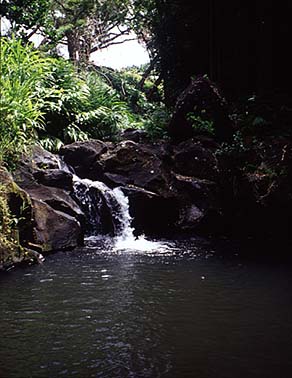 "The ali'i set that mauka part of Nu'uanu valley as Crown Lands," adds Kalani, "and therefore belonging to the ali'i family. Exactly how it changed hands…there's always a story that goes with that! Usually somebody went in and saw someone and said, 'you don't need that portion, so why don't you give it to me, and this is what I'll do for you.'
"And suddenly you find carved out of what was Crown lands some private property—not by Hawaiians—and you just shake your head. The Hawaiians would not do that, because no one owned it, and you would always be able to use it, and along with use, hand in hand wedded, was taking care of it."
The story of how the name 'Luakaha', once applied to the Crown Lands of upper Nu'uanu, came to designates a private property just below Kaniakapupu, is told in the writing of Clarence H. Cooke (1938).
Some time in the late 1820s or 1830s, Kamehameha III hired a Captain Hinckley from Boston to repair the Pali Road, which at that time a was rocky and muddy track. Hinckley, known in Hawaiian as "Hikele," frequently asked the king for a piece of land in Nu'uanu, to build a rest house for his wife and himself.
The king did not consent, however, until finally Hikele made the following proposition:
"If you will give me some land, I will build a house, surround the same with a fence, plant everything on the land, until such time as I leave this government. Then I will return the land to you with the house, the fence and together with this and that that I have placed on said land." (Cooke, 1938:2).
The King then consulted with Kinau, the Premier of the Kingdom, and with the ali'i. Then he granted Hinckley's request. This verbal contract was, according to ancient custom, stated to others whose duty is was to memorize it.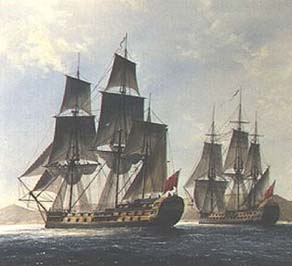 Hinckley wound up in debt to a Mr. French, whose interests were in turn bought out by British citizen, Mr. George Pelly of the Hudson Bay Company. Cooke (1938: 3) writes "Captain Hinckley gave t hem in part settlement all his interest in the lands of Nuuanu Valley given him, as he claimed, by the King. However, the chiefs did not recognize this assignment on the grounds that he only had an occupancy and not a title claim. The chiefs therefore took over the land, destroyed the house he had built and demolished the walls."
But Pelly claimed that the property was assigned to him as part of Hinckley's estate, and complained to the British government about the Hawaiian Kingdom's action. His complaint reached fairly high circles.
In 1839 the H.M.S. Sparrowhawk arrived in Honolulu and made a claim on behalf of Mr. Pelly. The King resisted for about a year, then Ka'ahumanu II, the Premier, gave her consent, though her statement makes it clear that she felt Pelly was acting inappropriately.