"After that," Stephen continues, "the Land Commission went around and gathered testimony for the further subdivisions, and based on those testimonies we have all the descriptions, within those ahupua'a." As can be seen on the lists of claims filed, land parcels are identified by 'ili. This shows the nested structure of places and place names by which Hawaiian culture maps out territory.
This oral map was meaningful in the mid 19th century, but by today, many of these place names have been lost. How did this happen? This is a matter of shifting the "sense of place" from a Hawaiian oral mode to a Western, cartographic mode.
One can see by looking at the older maps and comparing them to the newer maps, how place names have lost their context. Many of the names, such as Ahipu'u, La'imi, Pu'iwa, Niolopa, and Kawananakoa remain as street names, and so retain some geographic relevance today. But the name "Luakaha" remains only because there is a property that retains that name. Place names such as Kahapa'akai and Kahaukomo have no context anymore.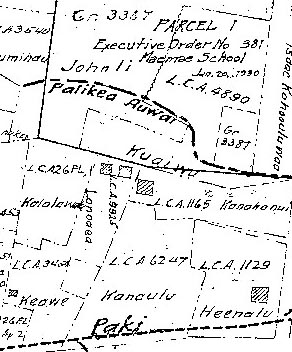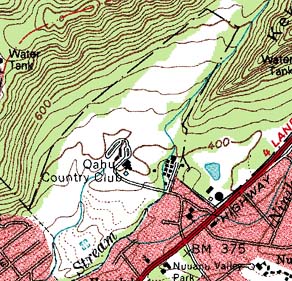 Partly this shift occured because it was foreigners, not Hawaiians, who were constructing the maps. It was a gradual change, for many old maps do retain a large number of Hawaiian place names. But these diminish after the Islands become a U.S. Territory.
Coulter's (1935) gazetteer of place names states as follows:
"The names of many geographical features in the islands known to the Hawaiians are not given in the gazetteer. There are in the office of the Surveyor of the Territory maps of parts of the Hawaiian islands with unimportant features identified by name. The Hawaiians named outstanding cliffs, rocks, small streams and gulches, and some trivial land marks. Such names were thought not to be of enough importance to include in the work. Mr. A.O. Burkland, during his supervision of the United States Geological Survey ... chose the more important features to be named on the topographic sheets and the most authentic names."