"A swamp forest is a group of trees that love very wet and inundated soils. You have usually a lot of roots coming up. We also used swamp forests for cultivation of taro, but it was a lot more difficult because you have to do a lot more clearing in a forest than in a marsh. But there is more swamp forest than marsh as a vegetation type in Palau, there are a lot more swamp forests. They are very important ecologically, but in terms of their cultural aspect, I think they were kind of a reserve for areas to plant taro.
"And then you sometimes have kind of a marsh area, freshwater or saltwater marsh area, and that is referred to as dechel, and dechel is traditionally where we have our taro patches. We would clear out the native fragmities and things like that and plant taro in those freshwater marsh areas."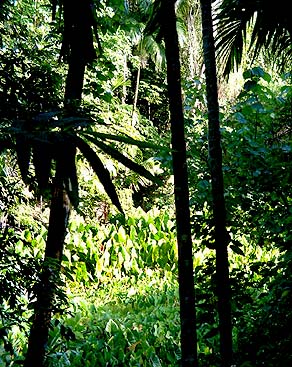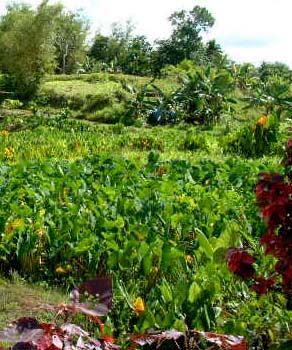 Taro cultivation in what would have been a marsh area.
"The freshwater marshes are sometimes along streams, but not necessarily, not always. There are bits and pieces of marsh areas that have no streams near them, so probably they have a spring somewhere. Marshes are probably Palau's most endangered vegetation type, because there is very little of it—naturally there is very little marsh vegetation, but it's also very heavily used for cultivation of taro, hence there's less and less. I think on Babeldaob about 3% of the island is categorized as freshwater marsh. And that includes the areas that are cultivated.
"Marshes usually have different grasses. There's only a handful of plants that grow in the marsh areas, so it's not highly diverse in terms of its plants, but it does provide homes to a lot of different wetland bird species, like the duck and the swamp hen."