"Through him Medechiibelau joins us in our meetings, but he doesn't talk much. His role is not so much to participate in discussion but to receive the share of Medechiibelau . If we have a feast, or we partake of any food provisions by the people, he eats the head of the pig, he gets the best food.
"I am the number three chief. But customarily I'm like the number one. I am the head, because number one is Medechiibelau. But when we break the bai into two sections, on one side the odd numbers are aligned together—1, 3 ,5, 7, 9—and the other side is 2, 4, 6, 8, and 10. Then since Medechiibelau does not participate, the number 3 becomes number 1. But actually we still recognize Medechiibelau as the chief of Airai Village."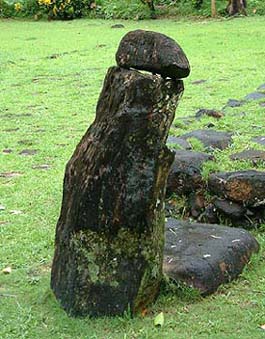 "The god of the village." Click here to learn more about this rock and Medechiibelau.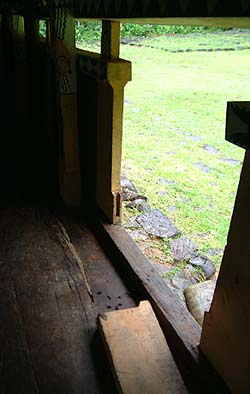 "When the clans appoint a chief, the senior female members of the clan get together and select a male member to be the clan's chief in the bai. And when he is appointed, the senior female members would bring him and present him to the council. The council can reject this appointment or accept him to be 'their friend'. If he becomes 'their friend,' he would then hold a feast, serve food, and we eat to bring him in.
"When he comes in, he will then tender a piece of money to the council as his 'bridge' into the bai and to buy his seat. Because when we are building the bai all the chiefs would actually buy their portion. And the higher you are, the more you have to pay. This distributes the cost among the members, based upon their ranks. That is why not anyone can sit here, because they didn't pay for their portion."
"Each one of us has an assigned seat. I cannot sit anywhere. Normally my seat would be at that entrance over there, but when we have a conference meeting, we move this way and even we do move ourselves, we have assigned spots for us to sit.
"When we have a meeting or conference, we don't speak loudly. We use a go-between to carry our messages one to another. So it's a kind of a' house of whispered conference meetings'. This way, if I make a mistake, I can always blame the messenger!"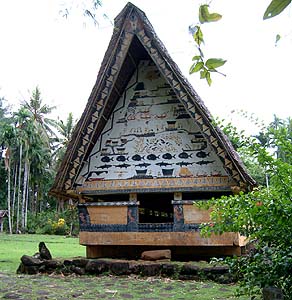 The eastern end, showing the stone platform and the painted storyboards.