"They never succeeded, but since then, the reputation of crocodiles has not been good. Maybe it has been so long now that people will look at crocodile a little bit differently, with more of a conservation view. I think the attitude will change, but until a few years ago, no one would dare try to think of crocodiles as a good thing, because people would automatically say, 'what's wrong with you?' But I think that's already changing.
"The crocodiles have come back quite well. And while it's coming back, we need to figure out how to do something with the population and the coexistence with humans. Because as we move into Babel daub with the new road, people will come into contact with crocodiles more often than previously. So we want to make sure that contact is positive. I think the next step is to figure out how to start promoting a positive relationship between the crocodile and people."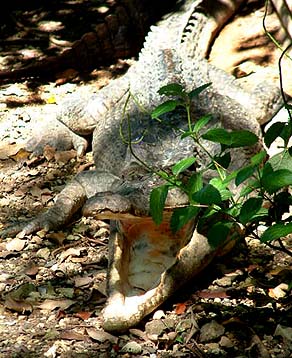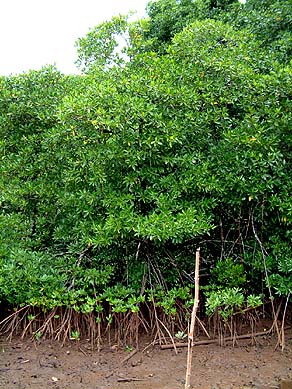 "When the Japanese were on the island, the Okinawans used the mangrove to make the charcoal," Walter says. "They stayed in the mangrove areas and cut it down and sold it for lumber and for charcoal. They built a traditional Japanese kiln, where they made the charcoal. Every morning, Japanese women, Okinawan women would walk along the street with baskets full of all kinds of fish. At the same time they were getting the mangrove for charcoal.
"I think the mangroves are getting really out of hand. If you go onto the waterfront of any village here, they have invaded the areas that people use. Where I live, and the estuary over there, the mangrove has overgrown the area already. Now the mangrove is is invading the space in front of the shores, and growing right out to the open water."
"You look at Kramer's map, it was very thin mangrove. People used to go across the causeway, back when they could. But now there is too much vegetation. That is evidence of how the mangrove has invaded. That's why if they could, if the people in the village should decide to restore that place, then this is probably one of the things that should be done.
"It has also now become a habitat for birds too, and other creatures, those mangroves. But it used to be that from the dock, you could see the other side. But they let it over grow now."