"When they went by the villages, they didn't have much resources, so the Japanese used all the resources available on the island. They tore down all the traditional platforms along side, building the road to Babeldaob and to the center of Airai State. They robbed some of them. And even making the bunkers, they robbed the stone platforms.
"Near where the road comes from the KB Bridge was one of the traditional villages, called Ngerechemel. It was a very powerful village in olden days, and they had a lot of sub-villages under them. It was by the road they were building. And there used to be a chief of Ngerusar who told how Japanese were robbing those platforms, the village platforms of Ngerchamel, to build the road. And further up, too. And in those days the platforms weren't important for the Palauan people, who had been brainwashed."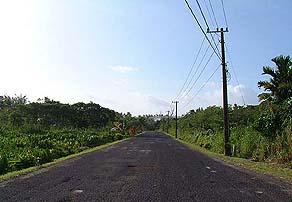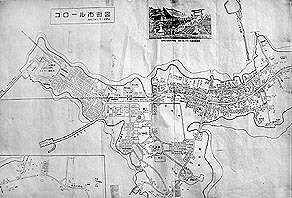 "Airai was the closest big land mass to Koror, and they penetrated even the center of Airai State. You can see those Japanese building there today. They developed Koror, and parts of Babeldaob, almost to the fullest. Then they used all the natural resources available here.
"This is the map over here this is how developed Koror was. It was almost the same in Airai too: there were a lot of houses in areas over there, especially family cottages. You can still see the foundations, steps to the houses, almost everywhere over there. You go to the boonies, you seen remains. We don't enough population these days to built to that extent, to those areas."