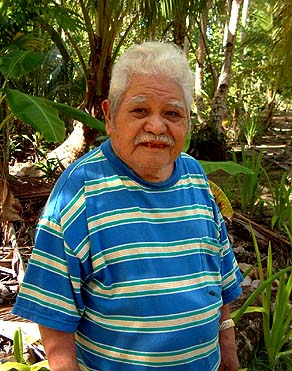 Louis Pitmag:
"I was born in here in Wanyaan village and a man from Gachpar came and adopted me. I am 85 years old. Pebnaw in Gachpar belongs to a lady named Huchol, who is my adopted father's sister. I'm only an old man in Gachpar.
"During the war, I went to Japanese school for five years, then after that I worked for the Japanese as a teacher, teaching or translating the Japanese into Yapese or to the Outer Island language."
"Louis Pitmag is a chief," says William Yaad. "He is higher than me. His people are the owners of Pebnaw. I'm only a member of the Council, and they are the owners. He's also the owner of Numruy. That's the most important place in Gachpar. It is Yongl'aab's place in Gachpar."
"In Yap it is very true that you can not explain how high you are in rank," Louis admits. "That's the custom here. So please forgive me for saying this."
William Yaad:
"I'm from Gachpar, Gagil municipality, Yap Island. I already retired from Land Resources and I have a part time job at HPO, Historical Preservation Office. I've been working there about two years.
"I am a member of the Pebnaw council in Gachpar. Gachpar has a relationship to the Outer Islands. To Mogmog in Ulithi Atoll. Long time they used to come by canoe. A fleet of canoes used to come all from Chuuk all the way down to Ulithi,and from there, taking their offerings to Gachpar. These men from Pebnaw used to take the offering to all the Men's Houses in Gachpar. That Men's House is called Falsew.
"For recounting stories, I like us to sit with Louis. If I say something wrong, he will correct it, and if I say it right, he will approve it."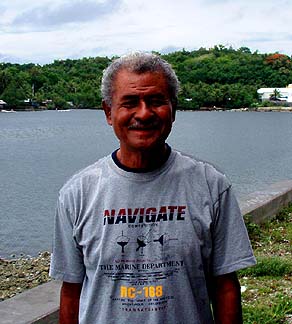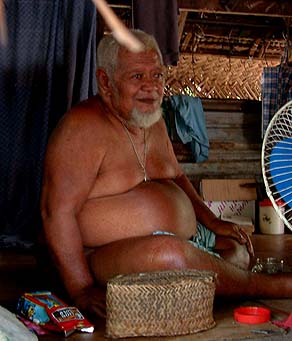 Chief Antonio Taithau:
"Antonio Taithau is presently chief of Mogmog," says Stanley Marer, Antonio's 'lieutenant.' "He is number one of the five mtaang. He is our 'chief of police.' Before, the mtaang spoke for the king, because we had a king. Now, we don't have a king, so we just remain as mtaang.
"Antonio was working with the Japanese during the Japanese administration in Yap. He was one of the laborers. They did the gardening for the Japanense military, and they did the fishing, and various kinds of very low jobs. Local people were kind of suffering. The military used to make sure that no local people would take anything from the military gardens. And the military controlled all the fishing grounds. Antonio helped in all these, and he tried to spare other people some food. So he'd get one or two guys to get food, and away they'd go to give to their relatives, the local people that are there with them. They did this secretly—they didn't want the military personnel to find out.
"Now Antonio is not well to travel, so he has appointed Hilary Tacheliol to represent him in the Council of Tamol, on Yap."
Chief Phillip Yatch:
"I'm the chief of the island of Falalop only. Not the whole atoll. For this island only. During the war I was in Yap as a student. In 1941, I joined the Japanese school. I speak Japanese and Yapese.
"This community has ten clans, and two clans for chiefs. The clan that I am standing on, my clan, is chief of the island. The other chief is for the people. And the other eight are controlling reefs and fishing; agriculture, taro patch and all those things; and the other two are policing the island, watching over the island. They take orders from us, the higher chiefs—of the people and the land. Sometimes we get together, discuss what can be done on the island."