"This skull is called 'man of Taga' because he was found in Tinian, right near the Taga area. He may be a relative of Chief Taga himself. This skull is a replica, cast from the original. The original skull was sent to the States, where a forensic scientist created this model to determine what Chamorros' features really looked like.
"In the back of the neck, there are four protruding points on the skull. That signifies that these people lifted heavy weights. The Chamorro here carried a lot of latte stone. So that's how the muscle tends to hold the neck together. Those protrusions grew out to hold the head. Imagine if these people would have survived today. They would probably rule the Mr. Universe magazine!"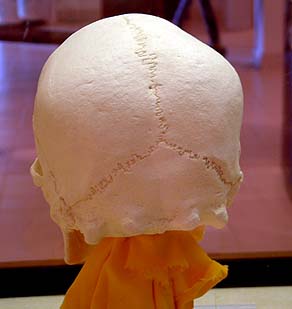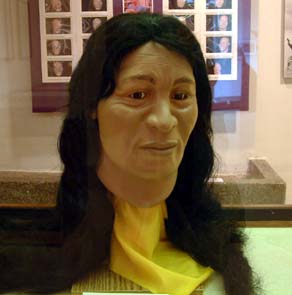 "Chamorro features include thick cheekbone, a long nose, and long, wavy hair. They're big and massive. I think some of the genetics are still here. Not all the Chamorros from these islands were taken to Guam. A lot of pure Chamorro hid in caves in Rota. The biggest in our family is six-foot-five. The rest of my other family that went to Guam are huge.
"If you go to Rota you might find some big, monstrous guy, three-hundred pounder, and some of the features are there, you can really tell. You also still see a lot of people in certain areas of Guam with big cheekbones and wavy hair.
"Among the ancient Chamorro, the woman's role was very powerful, same as elsewhere in Micronesia. There were the 'first ladies,' maga'haga, meaning the 'wife of the chief,' in every society. They selected the new chief whenever a chief died. The name of the family went through the women. The land inheritance was through the women. It's only when the Spanish came here that they didn't like it. They wanted it to be the man."