"The Carolinians who settled Tanapag village were at that time serving as plantation workers on Tinian, and they had been brought in by a fellow named Johnson who, through family connections, secured a lease from the Spanish administration on Guam. He leased Tinian, he leased Pagan, he leased a couple of the other northern islands. He then went down to the Carolines and recruited workers, and he brought them up first to Pagan, and then they moved down to Tinian.
"Johnson was later lost in a boating accident. His widow held on for a while, and then she finally gave up. So the Carolinians that were living on Tinian then moved and established the second village, which is now Tanapag, and that was around 1887 or 1888."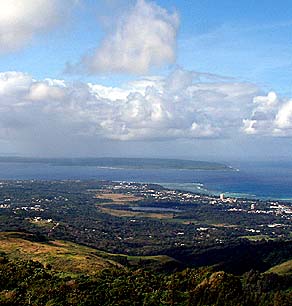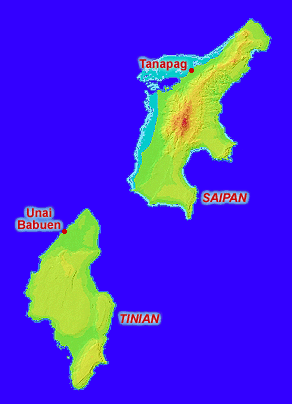 "In the early 1800s the island of Tinian had chickens and wild cattle," Ben relates. "I don't know who brought them in, but those were supply for other merchants who happened to call on either Guam, or Tinian, or Saipan. And so we were first brought in to the island of Tinian.
The people were settled on a beach called Unai Babuen, 'Pig Beach,' on the northern part of Tinian. It was a very small, sandy area and a very small fishing ground. Over the years, the people from this village decided not to stay there. There wasn't that much for them to live on, and they sailed their canoe up to Saipan and looked around for a village. They decided this is a good fishing ground, and that's how we were settled."
The different origins of Saipan's Carolinians is made manifest in some degree of linguistic difference. Our bilingual teachers explain:
"The dialects are different out in Chuuk and Yap: the Southerners, we come from Yap's outer islands, Satawal," Cathy says. "The Tanapag people," Yoane explains, "they mostly came from the Namon Weite atoll, and that's the northern dialect. Usually the only difference is changing some letters in the word. For example the Southerners they might say schóóbwut for 'woman,' but in Tanapag they say rhóóbwut. We have 32 letters in our Northern alphabet for Carolinian, and out of those, I think there are three or four that the Southerners don't use. And they have some letters that we don't use."
"They are not really that different," Cathy adds. "If Yoane speaks to me in the Northern dialect, I would just listen carefully, because she would use the r instead of using the l, and she would use the n instead of using the l or sh."