"During the Japanese times, there were two utt. There, we repair canoes, we meet with the men, talk about and prepare for fishing activities, prepare for cultural events, or have Carolinian Stick Dances. That is one of the most popular traditions here on Saipan. Those are performed by the boys here in Tanapag.
"The utt is the men's house. This is where the men get together and meet, discuss certain things, certain issues about the village. If somebody got drunk the other day, we need to talk to the families of these people who are disruptive. Sometimes the Chief will say 'no more coconut toddy'—making tuba and fermenting it and getting drunk. He'll make certain restrictions according to certain behaviors in the village."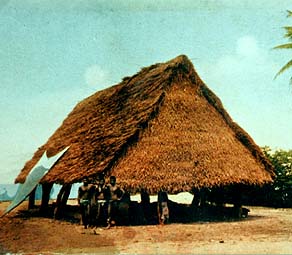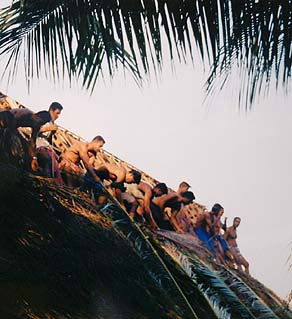 "It's very important that we learn about the utt," Dave states. "That's a meeting place where people have to put their attention more closely to the chief. The chief organizes what is to be done, he's a decision-maker. For instance, going fishing, they would all go in a group, and when they came back, they would have to meet with the chief again and determine how to split up whatever fish they caught.
"Long time ago, we had to share the fish. All the catch of the day we had to share it among the families, the relatives. We expect them to give us the fish, even those who don't go fishing. They have to give the share to people in the community."
"Utt is also a place where we organize events like the fiesta. If we have a fiesta, we have to get over to the utt and help one another—preparing food, preparing canoes and preparing other part of things that we need to utilize for the fiesta."