"This village has five clans, though there are only three that I know of here today. The most populous clan is the Remar clan. There's also a Rewiite clan and there's a Refalamei clan. The majority of the village is the Remar clan, and it seems like only the Remar and the Rewiite are still in existence here in the village today. I don't know of any Refalamei here now, but they were here before.
"We know we have an actual connection to the Remar people back in the Caroline Islands. If we were to go right now to the atoll of Namon Weite, on the island of Makur, that's where the Remar Clan is very strong. They're the chiefs of that island. Now if we go to Unoun, it could be Rewiite."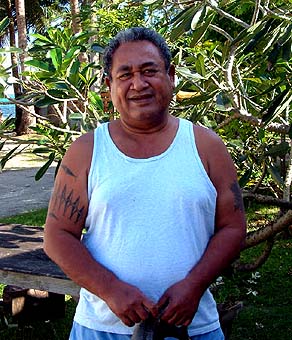 "The living Paramount Chief here in the village is Victorino Nekai Igitol. It's the Nekai, the mother's side, that brought him forth to his being a Paramount Chief. He would call meetings. He would direct the fiestas for our church. He would welcome voyagers from the central Carolines, and be very active during their stay. Whatever we need; we usually look upon the chief to make those decisions.
"We continue to maintain the traditions under the clanship. I know politics have tremendously changed our thinking and behavior, but we still go back to our chief and ask for advice, ask for his wisdom, and of course he tries to make plans for the community to actively involve in social functions."
"The Chief today, if he says, 'Pete, you don't fish here anymore,' I don't know if Pete's going to submit to that or not, because of the changing times and the assimilation of populations. The Chief could tell him not to fish, but the Chief cannot tell the Chamorro not to fish. If a Chamorro goes out and fishes, Pete ends up with the short end of the stick. Now the big question is, are you going to listen to your Chief?"
"Traditionally," Pete responds, "yes."
"We still have a chief," Juan agrees, "but his position is not as recognized as it was before, and this is part of the Democratic system coming into this place. People started speeding up, and then we started losing this closely knit community, and so things started changing. But in our Carolinian society in the village, we still understand and know our clan."