"Now the federal government has listed green turtle as a threatened species and so it's not allowable to use them for culture, or use them for medicine. We continue to ask National Marine Fisheries, U.S. Fish and Wildlife, to allow us cultural use. Just as they have allowed Inuits and they have allowed American Indians to harvest salmon, whales, seals, those animals that are considered threatened or endangered under certain treaties and covenant agreements. Those cultural uses are allowable I guess by certain applications of the Endangered Species Act.
"Today turtles are abundant, and we have requested to harvest ten turtles a year with the condition that we will raise more than 100 young turtles a year. U.S. Fish and Wildlife wanted more data, more information on the turtles before making a decision as to whether we're going to get our request."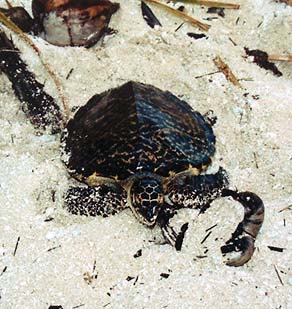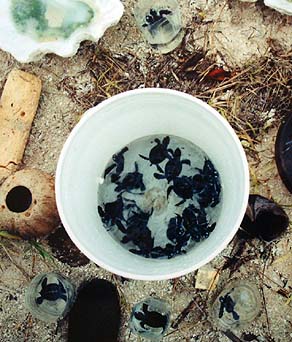 "But the irony of the Endangered Species Act is that there is no enhancement. Turtles are protected only, but nobody is here raising them to the age where they won't be preyed on. Turtles normally hatch about 100 young, but only a few of them survive. So if we could preserve those areas where turtles come back to nest, and help the young hatchlings reach the ocean, that would enhance the population, and would bring more turtles back to the island.
"In the olden days we used to wait for the hatchlings to come up, and we'd and pick them up and take them by boat out to the ocean and release them individually. We think that approach prevents a lot of predation, because predation starts on the beach from birds and land crabs.
"There's a season around April when turtles start nesting, and around May the hatchlings start to come up from the sand. And the sharks start calving also around that time, so as soon as the turtle gets in the water, the juvenile sharks would start feeding on them. And birds would start feeding on them, octopus would feed on them, and very few would survive."
"Conservation and enhancement starts with young people. I feel that if young people harvested turtles, they would understand the biology and all the things about turtles. Because we would be harvesting only ten, we would ask young people to participate in the hatchling release, and I think that would give them more insight and information and knowledge about turtles so that they don't go out and hunt them indiscriminately.
"I think that kind of knowledge and understanding would bring more turtles to the island: just the mere fact that we understand the nature of turtles. Respect is probably the best word: you respect the animal in the water and make sure that they perpetually are on the island for cultural use and for medicinal purposes. So I believe that actually having a cultural-use harvest would in the long term be better, and engender more respect by people for the turtle."