"The utt is the place for them to sleep. They cannot sleep at somebody's house or their own house, for example. When they arrive on the island, they cannot go and stay in a house, not when they come from navigation. You have to stay in the utt for three to five days. So that's the reason why they built that utt.
"We had an utt in our time, when our generation was young—when I was five, six, seven, years old, But we didn't know the meaning of the utt, we didn't really understand what an utt is. But when I started traveling to Yap, then that's the time I learned what an utt really signifies."

"That's the real definition," Dave adds. "If you go to those places, you'll find the original meaning of the utt. They still carry on the traditions. It's not like Saipan. Traditionally, they have utt from the beginning."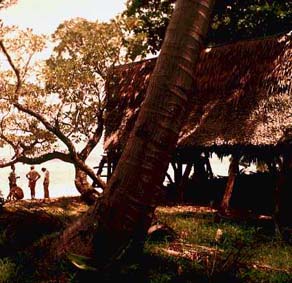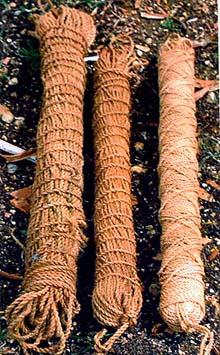 "In the year 2000 when we planned to bring six ocean going canoes here, three from Puluwat and three from Satawal, that was the first time in more than 40 years that we put up again a local thatch-type men's house. When I say local, I mean we tried to use local materials like coconut fronds for the roof as much as possible.
"We now have telephone poles that we requested from some government agency—we did that because they last longer. They are preserved—a lot of tar is infused into the wood, and being near the ocean like that, it lasts a lot longer than if we were to use coconut tree or Australian Pine and native plants.
"We got some traditional coconut-fiber rope from Satawal, and we got some from the outer islands of Yap, the Central Carolines, and some was made here. We also used fishing lines, primarily the Japanese long-line type. They're coated with tar, and so they last long too."