"One time a boat was turned upside down— they do that so the sun will kill the algae—and being young, and probably dumb, I climbed up and I slipped, and I dove head first into the sand. And there were pieces of coral there, so I got all this coral stuck in my face. I had to be taken to a Carolinian medicine woman, and then she massaged it, took out the corals, and said a few words in Carolinian for the good Spirit to help heal this injury.
"When that was done, my parents made food, and shared it with the medicine woman, and they talked and they made certain that I don't eat this red fish. In Carolinian we call it harrah and in Chamorro we call it sisi'ok, and in English it's the squirrel fish, the one with the barbs sticking out on this side. I was asked not to eat that one.
"I try not to eat it, but I heard people say they are the most delicious fish! You're never suppose to eat it. Ever again. It is taboo. And I still try not to today. Every time I see it, I say, 'Oh, you better take it!' "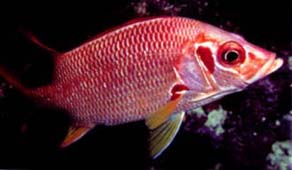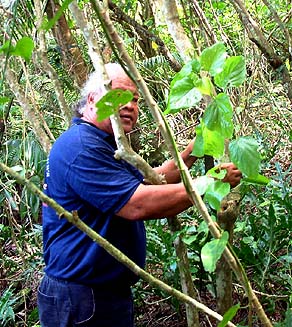 "The old-timers, they had their own way," Dave explains. "And there's a saying that you can speak to the spirit of the deceased. That's what I learned from when I was young. So I still respect as part of my culture.
"My mom was a suruhana. She could heal people just by praying. Some sick people are being attacked by ghosts or spirits. My mom used to heal them. They'd come to our house. I remember seeing a person being taken into our house, and she was very weird like she was trying to fight back.
"But when my mother applied the power of the suruhana, the spirit or ghost eventually separated from that person."