"And then when we looked at each other, we laughed. I said 'Eh? I thought it was only me, I'm Carolinian.' She said 'no, my mother taught me. I know that custom.' She offers a little bit of food, throws some, before she puts any in her mouth.
"I learned from the old ladies: if I carry food to a place, before we're going to eat, we have to open the package where you put the food. And if I carry various kinds of food, I take a little of each, and then I move my hand to my other side and I talk to myself. I say, 'Sorry, because we feel hungry and we really want to eat on your island, here's your food, too.'
"I believe if you do this, you have no problem—nobody gets sick, nobody has bad luck in the place where we do things like that."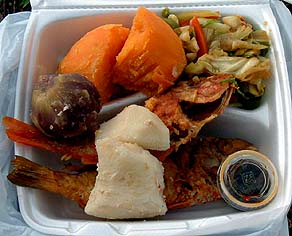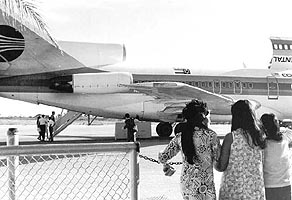 "In 1996 we women dancers went to join the arts festival in Western Samoa. And in 2000, we went to New Caledonia. And I told them our custom for food for the trip, whether on the ocean or in the air. I taught them what they were going to do before they stepped on the island.
"So when they invited us to go to Western Samoa, I told my group, 'Before we go, all of us, we have to buy a little something we carry.' They said, 'What for?' I said, 'We cannot get down from the plane and step on that island without something to throw down on the ground.' They said, 'Why?' I said, 'So we will not get sick, or have bad luck,' like an accident or something. Sick from custom—they say taotaomo'na."
"So that is the way. And they say, 'Okay, ma.' So when we went to Samoa, I brought some chewing gum, and some tobacco, a cigarette I carried, and when the plane arrived in Samoa, I took a piece of chewing gum and I went down. And I know some guy was looking at me, because he said, 'Why do you drop your gum down there?' I said, 'Because this is my custom. When I go to a new place, I have to offer like tobacco, cigarette, chewing gum or whatever.'
"And they laughed because they understood from their own culture too, the Samoan people. They know what that means. So nobody got sick, nobody had an accident our three weeks there, and we came back."