"Now there's entertainment, there's dancing, there is a band and everything. But in those times back then, the priest said 'No, no, no' to the band and 'No, no, no' to this, but now it's different. We used to have a ukulele or guitar, harmonica and then the choir would follow with singing. And after that they would eat and then that's it—go home. But now there's a stereo system and everything. It's kind of funny.
"And also way back, the only drink they had was Kool-Aid, and then the soft drinks started to coming in there. Beer was a no-no. No beer. Nobody could drink beer or tuba, the local beverage. But now, every fiesta, beer is a must, and any other kind of alcohol. And it's really changed. Right now it's like I don't understand what this is, what this kind of fiesta is all about."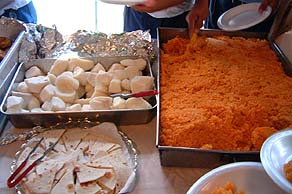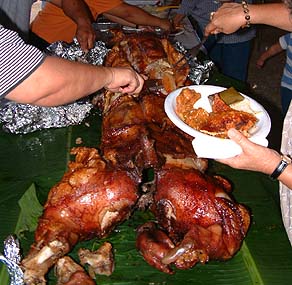 "It's a really huge event," Ben agrees, "with plenty of food. We do a lot of fishing, and people donate cows, pigs, goats. We do not have the culture of eating dog—that has diminished to a point where you just don't see it any more. But in the olden days, maybe because it was the only mammals that were readily available, and perhaps most quality protein was dogs, and so people ate dogs in the olden days.
"Not any more. I don't see the underground oven any more, but we do that for pigs. We still put them underground."