"But it wasn't really a happy arrival. Maybe for the Chamorros, because they knew about metal in the side of the ship. I guess the Spanish were trying to trade for food, water and everything; and Chamorros hopped in the ship and were yanking off the metal.
And how would they know about metal that's there?
"They must have had metal before. My grandmother told me they already knew about it—that the Chamorros brought some, and as time went by, it eroded. How could the Spanish introduce it to us when we have our own word for metal? We have the word lulok, an indigenous word for metal. In some place it's called pesi, si, and in Chamorro seethatcie means 'metal,' and in our language we have se'se', meaning 'knife.' Why would we have indigenous word for 'knife'? So that says to me, they knew about metal."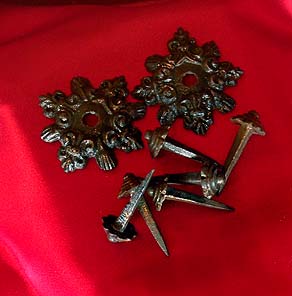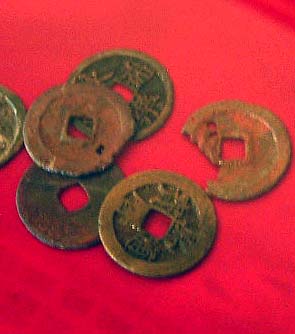 "I think they brought metal with them, because if you really look at it, when you're going to sail your canoe with lots of your other people, what are the first things you take with you? You take tools, weapons, food, potteries of water, a lot of fishing implements, hooks, fishing spears, nets. Everything that's important, you take it with you and primarily those are the tools. And tools will have metal. Then when they came here it probably eroded and, of course they can't find a replacement, so they use stone and tridacna.
"Then when they saw the Spanish they said, 'There it is guys! Hey guys, there's metal there!' So when they hopped in the ship, they started yanking off whatever boards they can get, anything that has to do with metal, to melt it down for the metal parts they want to use, to make their adze and their axes. So they knew about metal."
"And our people also tried to trade rice to the Spanish. That's why they called us landrones ('thieves'), because in the bottom of the rice sack, it was full of rocks. So the Chamorros tried to cheat them. Well, I don't think they were really terrible. It's just like they said, 'Wait a minute, let's fool these guys.'
"So, I think the Spanish came here first, and then they had some kind of small encounter and they left. They probably saw that the island is not that big, and then they went to Guam and saw it's bigger and said, 'Hey, let's stay here.'
"And then Legaspi came, and other Spanish sailors probably stopped at Saipan. There's a cannonball that was found in Tanapag. And it's made out of bronze, about two or three inches in diameter. Some American man found it on the beach and he donated it to the museum. But it must have come from somewhere. Not from the Japanese; it's all bronze."