| | |
| --- | --- |
| Health & Disease | |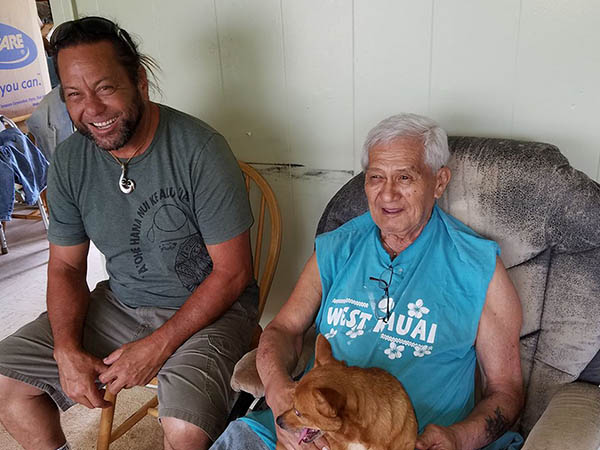 Guy with his father, John Keoni Māmala Holt, 2017.
"Health is exercise," Guy says, "and a lot of movement and try not to stay stagnant. If you sit down and you stay still a long time, you're just going to stay like that. You're not going to get the blood flowing and you're not going to get anything moving.
"As long as you stay moving, you'll be all right. But over here everybody likes to eat a lot. They've been introduced to the dried food system, which is easier than making it yourself and going and collecting and gathering it, preparing it and then sit down and eat it. Nowadays, people can just drive through and they think it's more convenient, and that's the distraction that's out there. So if we can get people more into that, that's the original Hawaiian diet: fish and poi and lots of fruits and vegetables, lots of greens.
"I'm the smallest guy in my family and I'm over 6 feet, where everybody else is like 6'5", 6'7", they are huge, and it's amazing, all the kids even, today they are just big. But if we can get them to eat this diet and get them away from the fast foods and the candies and all that kind of stuff, then they won't have those dis-ease problems with their insides, because a lot of things will get stuck inside. So there is an abundance of food, abundance of fruits, and as long as you keep moving you'll be alright."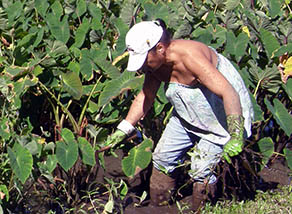 Nalani weeding in the lo'i.
"Thank goodness for our taro fields which are still going on," Leilani says. "I miss the dry-land taro from Makaweli side, because it's sweet and you can taste the earth, the land. You know that the land is good and the water is good. It's like the taro fields out in Ha'ena and Hanalei: you know that the water is good and that the land is good, the hands that take care of it—all are good. When it's not, you get sick. Just like anything else.
"The same with the fish out in the ocean. Being on an island, the environment is really heavily dependent on how well we take care of the land and the sea that surrounds us. We have all the processed, canned food and everything else, but that's not good. We need as fresh as you can get, as clean and off-the-land as you can get. As good the water sources you can get, it keeps not just the land and the animals and everything else healthy but us too.
"So that's part of the battle of the islands lately: the struggle over land and different modern processes that interfere with the natural environmental processes, that start tainting the biosphere that we have here. We don't get as much of the fish, certain fish, that we had before, and taro is now becoming tough. Tough to maintain a good quality, because those land issues, and water issues, and things of that sort. So that's where the politics all come in, even with our food, because it's the environment that we live in. We're still better than other places, but it's being really threatened.
"At Hā'ena, it's great they have that going down there, to keep that preserved, and our families have been fishing there since the first families ever came on the islands. And who better to know that ahupua'a or that land division, than the people who have been born and raised there all their lives?
"Same with the 'ohana from the west side, that are struggling with the modern processes that have jumped in and want to divert the water. We're not a stranger to water diversion. We've had that since the sugar cane plantations, and the cattle ranching coming in and other things. One thing about local native Hawaiians and families, we've always been able to adapt in some form. But to conform is killing us entirely. We lose something along the way, and we're losing this sacred biospheric relationship."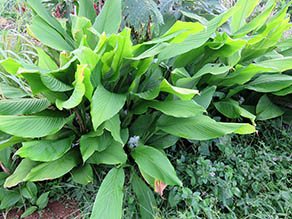 And if you get ill? Kawika describes the Hawaiian practice of lapa'au (medicine): "It's healing, its holistic healing—mind, body and spirit. There are lots of different approaches to that, but like I said, it's holistic. It's not that you got this problem, take this medicine, you're done. It's addressing additional issues in your personal life and your habits, and in whether or not you're living pono. That's lapa'au. The herbs and the medicine is one aspect of that."
"Nowadays people say there is some magic involved," Leilani says, "but it really is understanding the connection between nature and your body, and your spirit, and your mind, and working through all of that to pull it together. When somebody comes and asks me and says 'I need a lomi [massage], and I just need a lomi,' I'll have to ask them a question: what has happened? Or, is it something that's plaguing you? I'll do a lomi if I'm granted permission, and I usually just start with a sit down to see where you're at, and then go from there. From there, I would either be advised or see something that they need: a certain medicine to be prescribed—natural medicine. Or a certain other thing that they need to be aware of: maybe an ancestor is still pissed off about something and it's something that they can work with and clear. It's a guide, We're not cure-alls."
"We see what we see: whatever comes out, is whatever we're supposed to see. I could put your hand here and then feel it, and maybe over here needs work. Even though you're thinking this is the problem here, that might be the problem there, or something up near your head. So that comes with training and connection. It comes with dialogue—the initial dialogue—and before I even put my hands on you, it would be asking permission. That would be number one. This one elder kupuna, oh I wish I'd learn more from her! She could just look at you and see that maybe this is out of whack and needs to be straightened, so we need to straighten up there. You will only feel the surface, but they see right down in what needs to be worked on. I'm not at that level just yet. Sometimes I can, sometimes not.
"Here is where the concentration would be, in your na'au [gut], whether it's breathing or through chanting, to pull out whatever needs to be cleansed out from that area. What you'll find is many of the practitioners will be hesitant to comment on another person's practice without really knowing the lineage or them, and just to be respectful. We want to be respectful of them. We have different practitioners from all throughout the archipelago and throughout Polynesia, so there can be many different blends. I know that in the Maori 'ohana in Aotearoa, oh they stretch and bend and pull—ouch, that looks good. And warriors, many of the warriors of old, they had to learn not just how to break bones, but how to heal bones too.
"Also in the healing modality comes chanting—kahea—and with the chanting comes invocation. Again, offering prayer. We always start with prayer of respect and honor—of the lineage and thankfulness and asking for permission for whatever needs to come through. We offer prayers through chanting, through the use of our voice to send out that energy. I want to say we call the ancestors, many will say they are spiritual deities or family 'aumakua to send that prayer to, those thoughts out to. Which again, you have to be pure yourself. So that's why there is the process of cleansing—ho'oponopono—of lomilomi, of lā'au lapa'au, and using the voice in chanting, prayerful incantations.
"That's part of that whole: you'll have the basic wheels, and then from there you have to learn the plants, and making your tools and whatever else that is a connection of getting the task done."
"There is always a closing a prayer and a giving of thanks, and it's giving of that extra breath of positive energy, I guess you could say, or whatever is pono—is right—for them, it needs to be done. At the end, the teaching I have is to breathe in their upper area, above the head, and to offer that breath of love and good life."
The use of plants as medicine is a major component of internal healing treatments.
---