E.S. Craighill Handy on Agriculture in Hā'ena: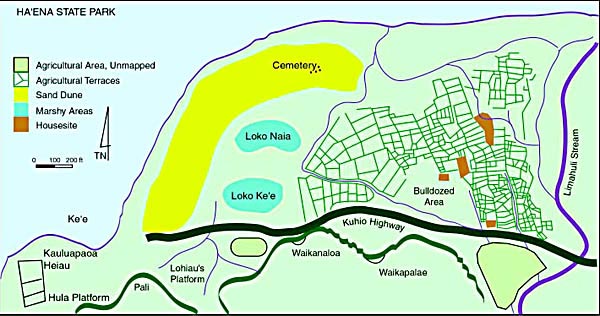 This map shows the pattern and intensity of taro pond (lo'i) cultivation in Hā'ena's near-shore area (now Hā'ena State Park). The two pond areas (loko) described by Handy are identified.
Redrawn from a State Parks Division map.
The lower portions of Limahuli Valley, and the short slopes of Mānoa Valley, were laced with terraces for using water to grow taro. Over the last century, as populations dwindled and modes of production changed, much of this agricultural land fell into disuse. But that it once supported a flourishing and important community is certain. Here is a discussion by E.S. Craighill Handy (1972: 418-419), who studied Hawaiian agriculture intimately, regarding Ha'ena:
"There are extensive areas of small wet-taro terraces in the lower part of Limahuli Valley, and the sloping and flat lands east and west of Limahuli stream between the sand dunes and the mountain sides were terraced and watered by ditches from that stream. In another small valley, Mānoa, there were also many terraces.

"A few hundred yards east of Limahuli stream there is a swampy area where taro was grown in a unique way that was practiced only here and in the marshes of Mana and Wai'eli, west of Kekaha. Swamp earth was piled up on rafts that were partly submerged, probably resting on the soft bottom of the swamp, and in the earth on these rafts the taro was planted.

"On the sandy areas along the coastal plain sweet potatoes ['uala] were grown. Formerly many varieties of banana [mai'a] were planted in Limahuli and Mānoa Valleys, as well as many kinds of sugar cane [ko] and several varieties of 'awa."
Handy also remarks that while cultivation of coconut [niu] was limited in Hawai'i due to its northerly latitude, on Kaua'i "the favored places" included Ha'ena and Hanalei."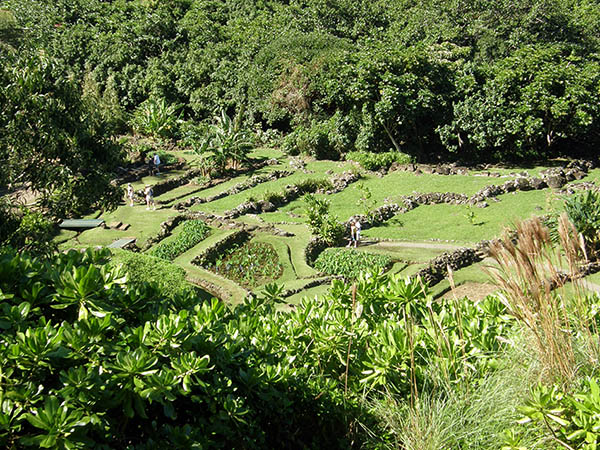 Describing the area in the 1930's, Handy remarked that
"Extensive areas of small terraces (lo'i), now abandoned and used only for pasture, fill the lower part of Limahuli Valley. The sloping and flat lands east and west of Limahuli Stream between the sand dunes and the mountain sides were developed in terraces, irrigated by ditches from Limahuli Stream. About a dozen of these terraces are now under cultivation in taro. The rest are used as pasture or abandoned under brush and grass...."

"There were many small terraces," Handy wrote, "and on the flatland immediately adjacent to the hills. All this land is now unused."
Not any more!