"The cost of living on this island is higher than the cost of living on O'ahu," Makaala says, "and the cost of living on O'ahu prevents a whole lot of people from coming. So it's very hard to live here.
"It's even more expensive up here than the Līhu'e side—or east side—of the island. It's remote from work and so there's the cost of that; and the billionaires that have moved in, of course raised the cost of everything. It happens all over the world. But we really tried. There is actually an ordinance that was supposed to prevent what happened in the transient vacation-rental market. It would have been county regulated, but they did not enforce it was because of the tradition of the families from here always hosting their extended families. This was a place that people vacationed, this was a place people came and stayed. 'Well that's okay, we can go to Auntie's house, and if there is somebody there, we'll just all share and whatever.'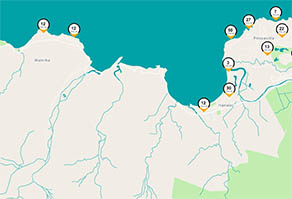 "So in the minds of the government officials this is what their home was. It was a place that welcomed everybody, and so to get them to enforce a law that said you cannot use your home that way, they couldn't. They would give it lip service because they knew the law, but they couldn't bring themselves to enforce it. I really believe, in my kinder heart, it was because as children they remembered that experience of being here. And what you and I would now call a 'transient vacation rental,' they just called 'Auntie's house.' It's interesting that the community isn't more divided than it is, because of all these external pressures and extraordinary economic pressure. But they have this place, and their bones are there, and it is a state park so they're not competing for having to purchase it or value it or whatever.
"The way I tell the story is, 'The bad news is, it's a State Park; the good news is, it's a State Park.' The bad news is that the State Park never planned, never developed as a Park. The good news is that the State Park was never developed as a Park, because it could have easily been swing sets and water slides—easily."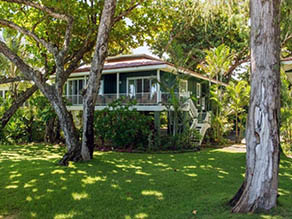 "The community has definitely grown a lot" Michael admits. "It would probably have been more so what it is now. There's a lot of vacation rental houses, so the people that come, they only stay there for one or two weeks. It's not long term. There's a lot of houses, vacation rental So if the people were to be able to live there for a long term, the community would be bigger. It is big but not as big as it would be. I mean, I'd rather have people staying long term instead of vacation rental, too. But in some ways, these people that own vacation houses have a hard time paying the mortgages and all that.
"People don't like it. There's good and bad about them. 'I cannot pay my money I need to make some kind of income.' Sometimes I cannot blame the guy that needs to make B-n-B—man, got to make a little bit extra. I'm not really down on them, but I'm not really for it. I understand both sides. I see the hard kind and I see the good kind. We got a good community down Hā'ena. People are together regardless of race. The people that are down there that came from wherever, all have accepted the lifestyle. And you go Princeville, it's a different story there. They don't want you hanging your clothes on the porch over there, or making noise at 10:00 at night. That's a different community. But our side is all good to me."