Family: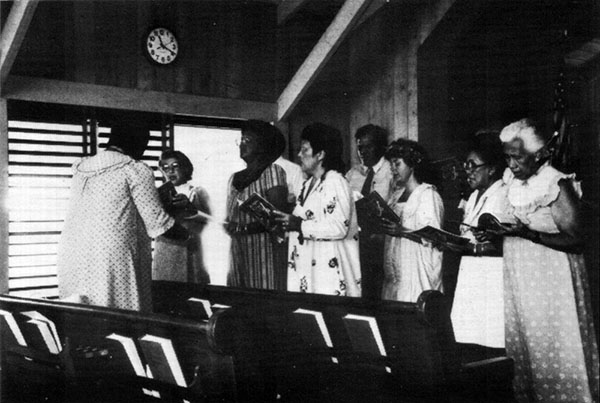 "Our lives really centered around this church," Emalia tells us. "We were brought here as babies, raised in this Sunday school. At one time there were as many as thirty of us within the same age range, all 'ohana. Those were all my cousins, we all grew up here. Many of them have passed on so there are few of us was left.
"There was a time when there was no one coming to the church but my grandparents would come every Sunday, open the doors and it'd just be my grandmother and my grandfather. He would preach the message, she would sing, she was known as the songbird of Kāne'ohe so many of us followed her example becoming good singers because of that training—right here in this church.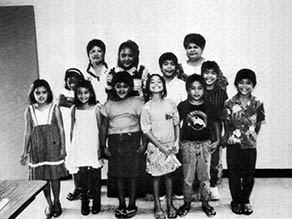 "I was not even in my teens I think," Leina'ala recalls, "maybe nine, ten somewhere in there and I just remember that, just running in and out of the church and just you know the physical part I remember, not his messages. But I recalled we had a real nice childhood as far as growing up in the church.
"We used to do plays, Christmas plays, that wasn't funny because all around was graveyard and we used to have to get into the building in some plays, and climb through the windows on a ladder. And then there's a curtain and then we'd hide behind the curtain and then come up. Growing up in the church, we all lived right around each other, and my grandparents were the ones that kept us, 'Okay it's a Sunday, everybody in church!'"
"All of our houses were around each other, but when Sunday came, my grandmother made sure she will made big announcements in every house, 'Get up, get to church.' so you have all these high schoolers and that's the furthest thing from their mind. I mean they were partying the night before and then, 'Oh I got to come to church.'"
"My brothers were all drag racers," Emalia laughs. "They were all in high school. They used to race cars out of Kahuku on the north shore was where the drag strip was.
"So one Sunday," Leina'ala says, "Kahu asked everybody over here, 'Oh how many of you were forced to come to church?' But years later now we're grateful that there was that kind of enforcement because it's made our relationship with Ke Akua what it should be, and that's why we're still here. Our kids will be here years after us, we hope, to carry on the same legacy."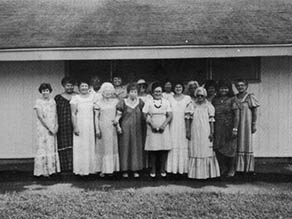 "Our families were so tight knit," Emalia remarks. "At the one family reunion I actually did a count. There must have been about a hundred and nine of us. Even though my grandparents had only four children, our family, my mother had 14 children but only nine actually survived. And then my Uncle Joe had eight children, and all of his survived, so that's where all the numbers come from. That was the youth group, and it was the choir.
"My Uncle Moke, 'Ala's dad, they only had four. She lost her only brother in the Korean War. He was 18 years old on the front lines of that conflict and he died. My uncle, it took him a whole year to get over that loss, and even then….
"Then my other uncle, my Uncle John, he had four children so they have tons of grands and greats. So that's the Hoapili family. Really kept the church going. There are other families who have come in since that time but they were like way later.
"I think when you get to be adults, you begin to appreciate some of what they used to do for us, even though we never listened. They had their ways of getting to us and helping us obey and follow Ke Akua which is really the whole reason we're still here. It's the same gospel that Benjamin Parker preached here about Ke Akua, about God's love through Jesus, that's the same message. We've never stopped preaching that message, for almost 185 years, so I think that's really the success of the church is longevity: they stuck to its original purpose. I think there's a real success story for us."
---