Agricultural plots are generally described in the historical record as "scattered" and "here and there." The agricultural features described included the full range of Hawaiian crop species (such as taro, sugar cane, sweet potatoes, bananas, arrowroot) and historically introduced crops including Irish potatoes, onions, corn, etc.
Visitors described interspersed "plantations"; "numerous acres of cleared upland ground"; "some fields of upland taro"; "the green taro patches on the plains and hillsides': hedges"; and "broken squares of trees." (McEldowny, 1983: 420).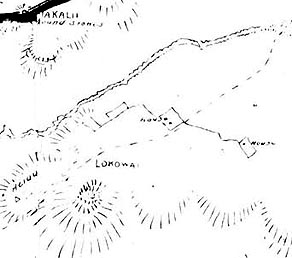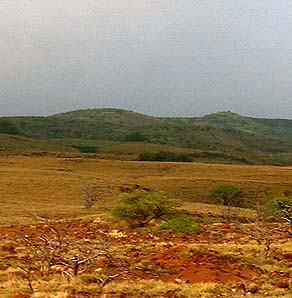 Looking across transitions from dry pili, to kula, and to upper kula.
Vegetation included alternate plots of shrubbery, grass, flowering bushes, and wild vines, hillsides partly cultivated and partly covered with grass. That these kula lands often needed to lie fallow for years between crops, probably accounts for the descriptions of these lands as patchy.
Features include various types of Hawaiian land divisions and irrigation ditches: ko'ele, 'auwai, kuaiwi, iwi 'aina, kihapai, and mala, in addition to several residential features. 'Auwai (irrigation ditches) are recorded as boundaries on land claims as high as 4,000 feet in Kawaihae 1.