"My grandfather used to plant outside of Pu'u Kohola Heiau," Mel says, "He planted sweet potatoes and squash, and had one patch of watermelon. It was the sweetest watermelon I ever tasted in my life."
"Kalua Loa, that's the name of that place," Papa says. "That used to be terraces in there. And the 'auwai runs like that. All irrigation coming from mauka. When it rains in Waimea, we have the flow, so it's a flood system.
"Just like you talk about automatic system, Hawaiians knew that already. So when the water comes down, it flows in this patch, fills up, moves on to the next patch, and down the line. They don't have to be there turning the water on this patch, no. It's automatic. Fills up, overflows to the next one, overflows to the next one and out, that's all you need, the rest goes out to the ocean.
"But when the Marines came in, they leveled out the place. You don't see that any more."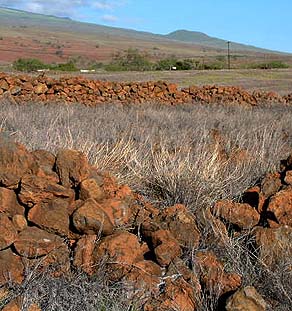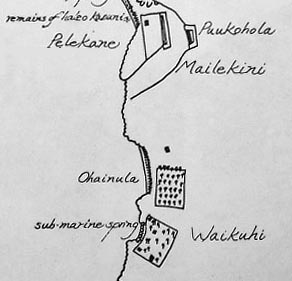 "This farm here, my great grandfather, William Paul Akau, he and his first wife lived in this piece here and they farmed this area," Papa said in a 1997 interview. "And his first wife is buried in this farm. And below here there's a lot of burials, of people who used to live in that area. This used to be another farm, old man Ka'aloa.
"And then makai of that the La'au family, Oliver La'au. He used to be the park keeper of Spencer Park. These other farms I don't know who farmed. There's a few more scattered. And then makai here, the La'au family, another La'au, the sister used to live here. The name of the place is Waiku'i. Annie La'au, that's the sister of Oliver La'au" (Chiogioji & Hammatt 1997: 54).