"But we had lots of rain up in the mountain," 'Ilima adds, "and even, it's unusual to see Mahukona area nice and green. But once it's starting to, then as soon as the sun comes out, then everything dries up again."
"It hardly ever rains in Kawaihae, It hardly ever rains," Lani says, "so when it rains, it means that it's a storm, then it rains really heavy."
"The Naulu wind and rain is is said to come in during the winter storm months, which is when the majority of rain would be falling for Kawaihae," Sam told us on the Winds page. These would be the storms to which Lani refers.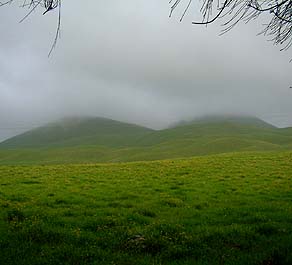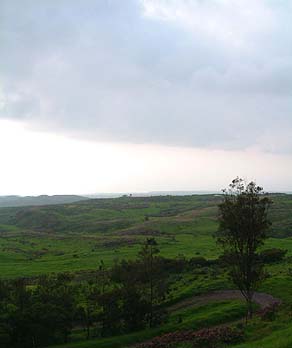 "Down here it rains when it gets Kona weather," stated old-time resident Masaru Doi, in a 1997 interview.
"Kona weather" refers to two weather phenomena in the islands. First is the break-down of the trade winds, in which case convection winds like the Naulu become dominant. The other is Kona storms, caused by weather fronts in the winter that bring wind from the South or kona direction.
"From what von Holt of Kahua Ranch used to tell us," Doi adds, "when the grass grows in a dry area the cattle get fatter about three times as fast as the wet place. So that's the reason they hang on to the place. During the winter months, they put them in there, when the grass is growing well, they fatten the cattle up" (from Chiogioji & Hammatt 1997: 58).