"Waiakape'a is spring water out in the ocean," Papa says, "right below the heiau. It's still there, still bubbling up. We never went out there to collect that water, because we had enough water. But we knew about it. If we ever ran out of water, we might have done that. Waiakape'a is just like a fan: blows up and goes down."
"Eddie La'au [senior] pointed out a place called Waiakape'a," Marion writes, "adjacent to Pelekane and about 20 feet from the shore, where the water wells up from under the surface. It is said to have once been warm and to have had some healing qualities that attracted many people to bathe there, in spite of its proximity to Hale-o-Kapuni and its associates" (Kelly 1974: 28, footnote).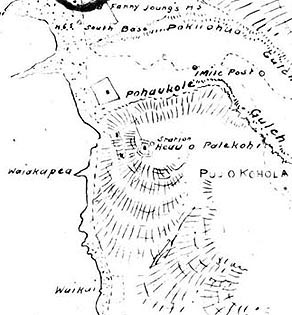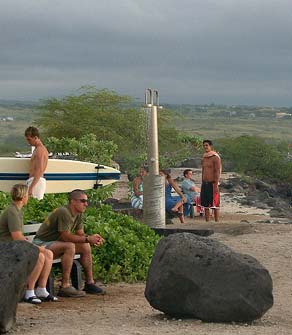 "We had fresh water, piped running water," Lani recalls. "They had a meter there, the county, they put the water in. The first time we had to pay Parker Ranch for it, then after a while the county got involved in it, running water. There was a meter in front of our yard, and they would come every month and check your meter, how much water you used."
"The water comes down from Waimea halfway from the powerhouse," Mel says. "From there the water pipe goes down to Kawaihae. It is located above ground, so all the water coming down the pipe to Kawaihae is warm. Today the water in Kawaihae is better. There's an ice house, and a refrigerator in most homes. If there is no ice, then it's fresh warm water."
"There was piped water," 'Ilima concurs, "but you never needed a water heater in Kawaihae. And you still don't, because a lot of the pipe is above ground, so the water was always warm. It was never refreshing. Never. It was always warm."