Hawaiian historian Samuel Kamakau (1992) writes of how these spies landed at Kawaihae and began scouting the Kohala area to see how many people there were. Kohala was known to be densely population. But when they returned to their chief, they said "We went all around Hawai'i. There were many houses, but few men. We went to Kohala and found the men only on the shores."
From this event (and the subsequent battle) comes the phrase, "Le'i o Kohala i ka nuku na kanaka"— "Covered is Kohala with men to the very point of land," in reference to the great population of Kohala (Pukui 1983: #1973).
"Kamalalawalu's whole war campaign was based on this faulty information," Hannah adds. Kamalalawalu landed at Kawaihae and found no one there.
"The people had gone to Waimea," Kamakau states, "for all observed the services at the heiau of Mailekini. Only those of lower Kawaihae and Puako remained."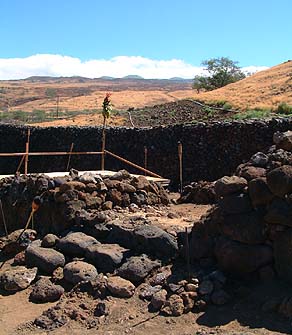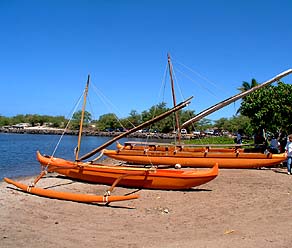 The real battlefield was at Waimea, but Kamalalawalu's seers warned him against fighting there: "Waimea is not a good battle site for strangers because the plain is long, and there is no water. Should defeat be met with by the warring strangers, they will all be slaughtered. It is better to go to Kona and fight, as there will be a resting place for the canoes" (Kamakau 1992: 58).
Kamalalawalu paid no heed, preferring to follow the advice of two old men of Kawaihae, who assured him that the battlefield would be good. "All canoes should be taken apart," they further advised, "because the warriors may desire to run back to the canoes and depart in secret for Maui. The best thing to do is to cut up the canoes and the outriggers, for there are canoes enough in Hawai'i. When it is conquered, there will be many canoes from Kona and Ka'u. There will be much property for the Maui chiefs" (ibid.).
This suggestion was carried out, and the canoes were broken up before Kamalalawalu took his army up to Waimea.