"It has been said in some old histories of Hawai'i Nei that the building of the heiau at Mailekini had been begun first," Desha writes. "When Hewahewa, the great kahuna in charge of preserving heiau arrived, he said to Kamehameha, 'E Kalani e, this will not secure the island for you because the house of the god is low. Lift it up high and turn it to face the sea, then from the sea will come the blessings.
"Because of Hewahewa's words to Kamehameha, he agreed to commence the house of the god at this site of Pu'ukohola, which perhaps confirms the unfinished state of Mailekini which lies to this day at a site just below Pu'ukohola" (Desha 2000: 303-4).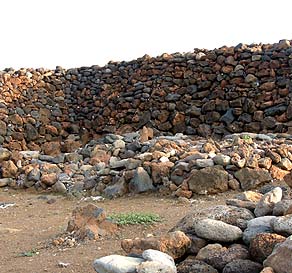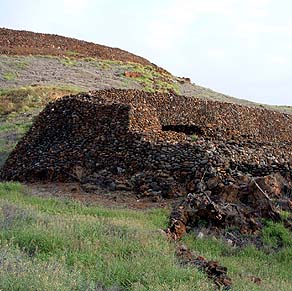 Ii, however, writes that Kapoukahi's advice "led to the restoration of the heiau Mailekini" as well as the building of Pu'u Kohola, indicating, again, that Mailekini was an older heiau, already in existence at the time of Kamehameha (Ii 1959: 17).
"Of Mailekini heiau little of its history is learned, or what connection, if any, it had in its working with Puukohola within two hundred feet above it," wrote historian Thomas Thrum (1908: 69, cited in Greene 1993). "In early days it was said that traces of an underground passage existed, though it was difficult to tell whether or not the two temples were connected by it."
"The caretaker of the the Lono heiau was this man that we knew, Mahealono," Papa recounts. "He used to live here. He raised his nephew Harry, and when Harry was a young boy, he disappeared for three or four days. And so the uncle came and asked our family 'Say, have you seen Lono?' We say 'No, we haven't see him.'
"So he was getting kind of worried. He asked around, and then after one, two, three days, the boy came back. And what he had on, he had on the yellow malo. He had a pu'olo. So the uncle looked at him and said, 'Where did you get that?' He took the uncle, and showed him where he went to go in—in the cave under this heiau. And so that's why he was the caretaker. So Mahealono sealed that entrance.
"A lot of people, even this guy from the Army Corps of Engineers, asked me about the cave. I said, 'Nobody told me about it.'"