"The black tip sharks down at Pelekane," Papa explains, "they're seasonal. Different seasons, they come in plenty—for spawning, mating, whatever. But you don't see them every day. See, they move, like any other things. They don't live here. Because of a certain current that brings them in there and maybe certain stuff they dump in the water. Like they used to ship cattle there, so all that cattle manure and stuff like that gets in the water, from the cattle. And then when they wash down on the ship, all that flushes down into the ocean. So you get them. But they don't stay here.
"For a long time now, I haven't seen any like I used to see. Any time I drove, I used to see at least one or two. Before the harbor was built, the bay was all the way inside. But then they narrowed the space that they had. Before, it was the whole area, so the sharks could go all over. But when they made the harbor, they made a narrow space, so they only come in one area."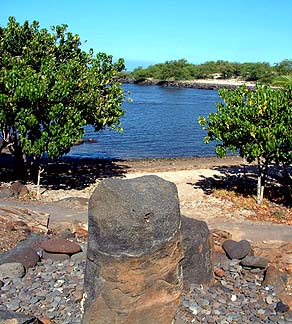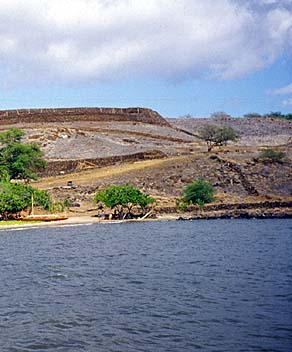 Hale o Kapuni is seen by some as an extension of Pu'u Kohola. "There is an interruption where the road is," 'Ilima remarks, "but actually the heiau goes right into the ocean. True, I think the water has receded a bit with all that's going on there."
Greene cites a study by anthropologist Lloyd Soehren, which states that, as children, older residents of the area remembered seeing the heiau rising about two feet above the water. One person remembered a channel leading into a larger area within the temple where the bodies were placed for the sharks (see Greene, 1993: history7e.htm).
This aquatic heiau is no longer visible. Some say that silt from the nearby coral flats of the new harbor have covered it over. Others suggest that the various tsunami that have hit Kawaihae have broken it up and scattered its rocks. An interview conducted in 1978 with an elderly resident said that during World War II, amphibious equipment landed in the water and on the beach and may have obscured or scattered remains of the heiau (Greene, 1993: history7e.htm).