"Where the old church was, mauka," Papa says, "the Awa'a families used to live; all them was mauka side, all in that area."
"My older sister and my parents lived up there," Pua remarks. "When they first got married and had our first sister, they lived up at Kawaihae Uka. And the Lincoln house, that's my uncle. The Lincoln family."
"Before, we'd go there all the time," Lani recalls. "My family, the Akaus and Awa'as, were close, very close. I don't think it was called Hoepa. I can't remember the name though. But I remember there was a church there. There were very few people. Very few. The Awa'as, they're family: Awa'a is my mother's cousin."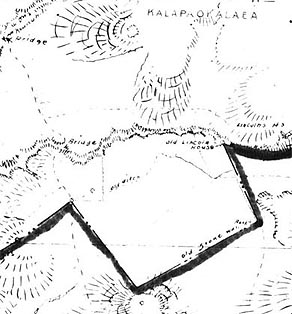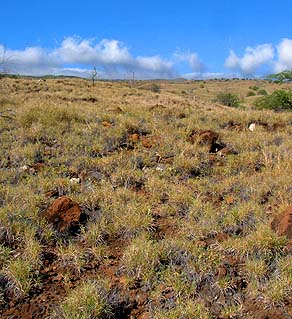 "I was afraid when I went up there. And we stayed up there over night, and oh, how gross, this is a terrible place. I would be so afraid to go outside in the evening. One day I was playing outside of the fence, and I thought I heard a pig. And I said to myself, 'there must be pigs here somewhere.' I ran up there and I told my grandfather, 'I think there is a pig out there.' He said, 'do you see it?' I said, 'No, but I heard it.'
"And for two days he sat there by the fence and he watched. He had the gun, and one day he saw it and he said, Yep, I was right. Bang! He shot it. And then after that he cut it in chunks, got the big barrel and salted it, and put it in the barrel for about a month or so.
"Then when they wanted to eat pork, he would go get it and rinse it all off and boil it. First time, you throw the water away; second time, you throw the water away. And then you can cook it, and they put cabbage in it. They would eat it with cabbage—salt meat and cabbage. It was good."