"The incredible impact that the Makali'i has had includes, first, the creation of more canoes, and in people being totally excited about voyaging. Especially people that are more grass roots, who come from relatively destitute communities throughout the islands. We don't have the recognition that comes with being in areas of high visibility, where the funding is much, much easier.
"And the Makali'i, they have been awesome in allowing the entire Waimea community to share in their success. That's the true community spirit. So it's not like your community puts it together, then when it is successful all of a sudden only three people take credit for it; but really saying, 'Hey, this is our community; this is how we work together.' This a way of showing that communities can work together. And we are the role model that: if we can do it, you can do it."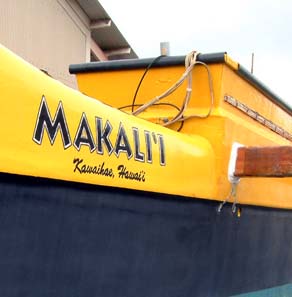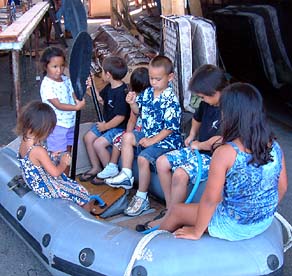 "I have no connection to the Makali'i," Pua points out, "nothing whatsoever. I didn't involve myself in the Makali'i, because I wasn't into a lot of Hawaiiana like they are. And I didn't want to get into something that I didn't know anything about it anyway."
"I don't really get involved in a lot of causes or a lot of things like that because I don't have the energy," Ku'ulei concurs. "When I find something that I think is worth fighting for then I do it."
"It didn't pull people together in this community," Pua continues. "Maybe up in Waimea, but not in this community, no. But whatever they did and however they did it, was O.K. for us.
"And of course when I see the Makali'i out there going, I go 'Oh, here comes the Makali'i!' To watch it sail by, it feels good. And to know that a lot of our children are on there and they are learning about how to do this and that and whatever the teachings are on board, it's fine. For their own benefit."
"During our days, we didn't have that kind of opportunity, and some times you need to do that, because some kids today, school is not for them. They would rather stay home and do other things than go to classes. But I think going on the Makali'i or something that where you take the children away from class and put them into something that they're interested, I think that is worth trying.
"The Makali'i did do good," Ku'ulei agrees, "it did good for the kids that went to school there and learned how sail and all that. But as far as my community, this community here, it didn't involve us at all. We did that as kids. That was a way of life for us, and it was work, hard work. As you get older you try not to do those things, you try to do better things. I love the ocean but it's also hard, hard work. But if you want to go for it, go for it.
"I've gone to see the Makali'i when they came in, and I show my kids, it's interesting. And it's nice looking at it when it's sailing out there in the ocean. Beautiful."