"At the makai laboratory the emphasis is on the shoreline and the ocean. Some of the activities there have to do with fish monitoring, looking at the impact, on the fish population, of runoff, development, golf courses, and aqua-farming. So the kids do regular counts in the water and monitoring for a variety of things.
"They're also completing a greenhouse. We're looking at re-vegetating that area with native plants. Not just in areas that we manage, but also giving it those citizens of areas that like to do more. It's a very, very dry area, so it's kind of like xeriscape plants that are adapted to that environment—but native plants, rather than introduced plants.
"I can't ever imagine our kupuna living makai and teaching our children how to make adzes, which is what only happened way up there in the mountains. If they're living makai, then what they'd be teaching to the next generation would have do with living at makai."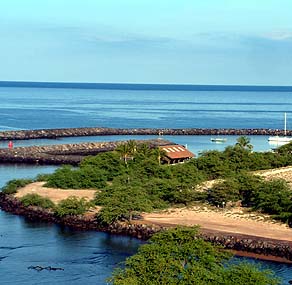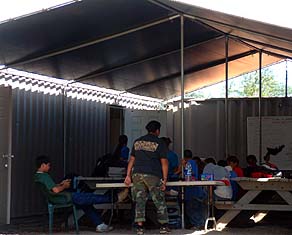 "So for us now to waste time on being able to name the Presidents of the United States, for example, it's absolutely irrelevant at every level for our students. Why waste our time with that kind of thing, when they need to know the genealogy of the chiefs from this area?
"That doesn't mean that we don't teach them how to access information.If we're going to look at leadership and the Presidents, then you would do that with the local ali'i and show them how, if you want to know anybody else's leaders, from the Americans to the Chinese to whoever, then you go into the internet and you find that out.
"And so the curriculum is tailored to the place, and relevance to place, which is how our kupuna would do it."