"They say the mountain side used to be loaded with the 'ilima" says Papa. "And you still see it now. Nice and orange. Pua ka 'Ilima, Kukui, Ka'ewa. Ka'ewa is up, right by the lighthouse. That heavy one. Comes right where the breakwater starts going over. Pua ka 'Ilima starts outside, whirls until it gets out in front of the heiau, then the wave goes straight. That's Kukui. Kukui is a place on the inside. Then you get various areas with names, so it goes after that.
"But see, all the three waves out here and the shore line, you hear people talk. Because when they hear what kind of surf's happening, they quick know which place. Ka'ewa is a heavy, rough, pounding. Pua ka 'Ilima is a nice soft. And Kukui is a nice long, starts from way out. That's where Kamehameha surfed. Kukui. They surfed at night time. So this is the story."
"Pua is the flower, ka 'ilima is the plant there. So, they named that after that, when you start one end, the waves, you see it's the wave that moves on. Ka'ewa, Pua ka 'Ilima, Kukui, see this is the area where the name picks up."
"Every year, just around October to December, you would have these sets of waves that would come in" 'Ilima remarks. "And these waves were called Pua ka 'Ilima. So my Mom named me 'Pua ka 'Ilima.' I got my Hawaiian name from those breakers, the set of breakers that come in during the end of the year."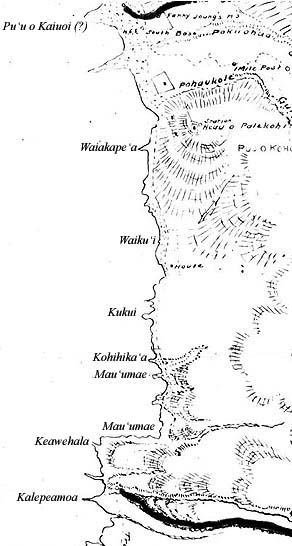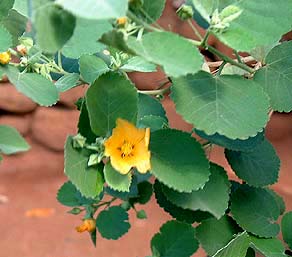 "I believe at the time, during that time of the year," Papa states,"the wild 'Ilima flower used to be in full bloom so I think that they named that because the flowers were in full bloom. But actually, I'm not named after the flower, I'm named after the waves, but the flowers had something to do with it.
"Why they give the name is something that took place there. So they always remember. 'Oh, when the fish start pounding this, oh,' they say 'Ka'ewa is getting mad' because heavy surf. And when you look at Pua ka 'Ilima, it's nice and soft there. So all of that, because they have a story in back of that. The ones who know the story, fine; the ones who don't know, they guess. Everything has name, and why they gave that name. And we don't use it, so we forget."
"Waiakapea is just below the heiau. That's the spring water. Waiakapea. It's still there.
"Waiku'i means 'the water bangs together.' Ku'i is 'to hit.' So it's where fresh water and salt water used to mix together; that's what ku'i means. That's down at Spencer Park, right next to the pavilion, on the Kona side. That little bay.
"There's a Kukui over there, right next, there's a kahawai that comes there, Kukui is on the Kohala side and the kahawai is supposed to have a name too, but I can not tell you right now."