Line Fishing:
"We owned a bottom-fishing boat," Lala says, "and for bottom fish, we use hand lines. We don't have weights. Hand lines to130 fathoms down for onaga. 80 fathoms for paka, I remember that. And we don't have any depth recorder either.
"When you go fishing, and the current is coming from the South, they say go to an area to do bottom fishing," Papa points out. "You palu. Because when the current is going north, the palu will go north, but the fish go swim south. Because where you're at, that's where he's going to end up.Over here is all reef, but some places don't have reef. Sometimes you find a ko'a, you got to be certain current, or no current at all.
"When you ka'ili [snatch, grab, take by force], you watch how the current goes, so you know where they hang out. So if you get good current, you palu—you send chum down—and then you just let it go a little while, first thing they all come in. Then you start pulling in, you have five hooks, ten hooks, whatever."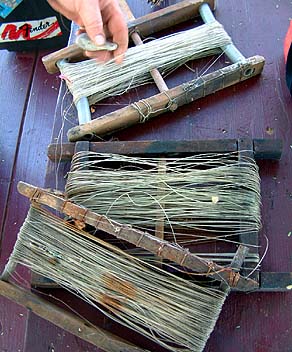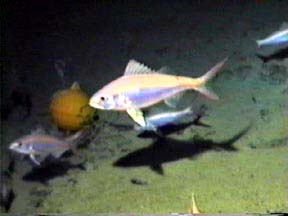 "But timing is important. You don't go just any time; you got to know when the current is pulling. Soft current is the best. Because the fish don't run against any strong pull. They wait for nice and soft current, for swim. So you have to know all of these kinds of things: It also depends on which phase of the moon. A lot of things you have to learn."
"The current, it's usually south or north," Lala agrees. "The south current, you go where the south current grounds are. North current, you go to where the north current grounds are. Where we used to go for onaga, you mark the heiau, and rivers.
"So I know all the grounds from shore lines. Nowadays, well they got GPS, they got depth recorder, you can see the fish. So it's a different story."
Click here to read more about currents off Kawaihae.