"A certain time of the year," Pua recalls, "when the kiawe tree was full of flowers, my Dad would say, 'If the water is clear today, we're going to make wana.' When I hear wana, I come weak, because that's a lot of work! We go with a big tub, we put it in an inner tube and then we follow him.
"And when that tub is full, we got to come ashore, put them all in a grass bag, shake them, shake them, in the sand, then you got to take it out, get all the spines away from it, and put it in a little pool, and then you got to clean it. Oh, and it's so hot, and you got to stay there with the thing, crack them all, take them all out, and put it in a bowl. But after everything is done, and we go home, that's going to be our meal now for the night. It's so good."
"Of course it wasn't always fat," 'Ilima explains, "we had to wait for season, and we knew it was season when the hala fruit was nice and yellow. That means it's wana season. We'd see all the Hawaiians picking wana."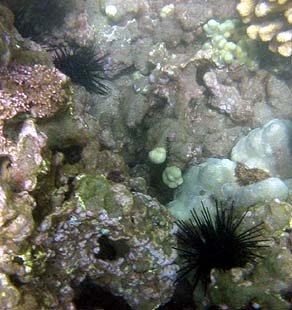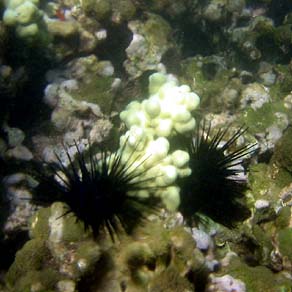 "You find it on the coral reef, and usually where you have coral, especially down at Kawaihae, it's shallow. I remember holding the tub for my uncle as he dove for wana and getting poked, because the water where the reef is, used to pull. It was hazardous getting the wana. My uncle would go when it was low tide, because then he didn't have to dive. He would just stand on the reef and just scoop it.
"But we needed to be near him with our big pakini [bucket, metal pot] so that he could put it in. And of course the water surged, and we couldn't put our feet down because we had no goggles, so we couldn't see where they were, so we'd kind of lift our feet and we get tired and put our feet down and BANG.
"He made like a fork, with very heavy wire, and he would get it about two feet long, bend it in half and twist it. And then just at the end he would separate it into a fork and then pick them up, put them in the pakini, and then we would take them to shore and put them in the shaker."
"We usually have this basket that's made from hog wire. And then you'd have handles on both sides. One person stood on either side, and we would shake it until all the thorns came off, and then we'd just get a little rock and sit and just crack where the teeth are, and then take that out and the meat. The body is round and we would just crack the center and pick out all the meat. It's a delicacy.
"The wana that comes from Japan, if I'm not mistaken, it's different from the local wana. The local wana is softer, sweeter and it melts. A lot of Hawaiian people let it melt because they want to lomi with their 'opelu. And if you just want to eat it, then you just can eat it then. You need to eat it right away, otherwise, instead of having the flesh you'll have gravy. Which is O.K., anyway."