"Certain time of the year," Pua continues, "you can hear people walking in my home. You can hear the door open and you can hear the door close. And that is not a lie. That is the God's truth. Sometimes I'm in my room at night and I'm watching TV, and I hear this pitter-patter pitter-patter pitter-patter and I try to look and see if I can see anything, but no.
"I would get up and I'd peep out of the door, 'Oh, what happened.' Or I'll call, I say 'Alika!' But he's sound asleep. So I said, 'Ah, that's O.K. go, go, go, go, go, go.' Or some time, my kitchen door opens and I go, 'Oh,' and Louie, he looks at me and it's so strange, I say, 'Ah, it's my Mom and Dad. Come Mom, come eat, come eat breakfast.'
"And I go, 'If you can open the door, try close them, so I don't have to get up and close the door.'"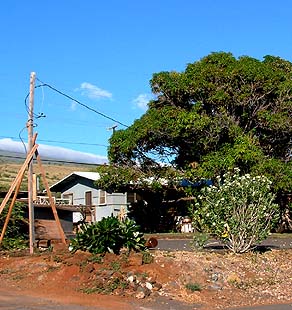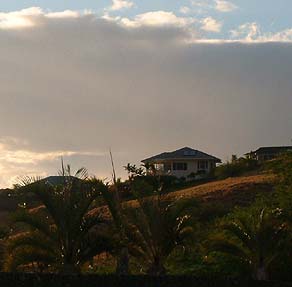 "And sometimes we're eating out here, camping like this, sound like thunder in our house, because somebody is fighting. And I witnessed that for myself. And I'm not lying, that is the God's truth.
"We have this couple, they're trying to build a house. But the carpenters who were building the home said that they could hear people talking in that house. The boss was thinking that maybe it's one of his guys, but when he goes to check, 'What were you saying?' and they go, 'Why, we're not talking to anyone.' But he said, 'I heard people talking in this house.' So they left. The homeowners know that there is some talking going on around here. And I don't think they moved in yet."
"Guys working in the yard, they hear somebody talking, nobody around, daytime," Louie adds.
"I always felt that it's an old area," Ku'ulei says. "And my auntie next door, she tells me that Kawaihae is an old place. There are lots of things here. You could see the spirits here. But I always feel like my family's still here. You always feel that on Kawaihae."