"Yongl'aab fed Filtey and sent him back to Ulithi," Pitmag says. "And Yongl'aab promised him, 'when you get to Ulithi and you come back some time to visit me.' So Yongl'aab gave him something: 'Make sure when you come back from Ulithi you bring something to me.' That's the beginning of the sawey.
"So they sent Filtey to Ulithi, and then he traveled back and forth like that, and when he comes here to Yap, he brings something to Yongl'aab. And Yongl'aab also gives him things to send out with the boy. That's the beginning of exchanging things between Ulithi and Yap, and so to the Outer Islands, Woleai, and Fais, and on out."
"After Filtey, they used to come to Yap bringing dried fish," Yaad adds, "because at that time, we didn't have salt, so they dried it under the sun. No salt. They just dried it and brought it to Yap, and then we exchanged with food, because they were really poor of food. And that's the beginning."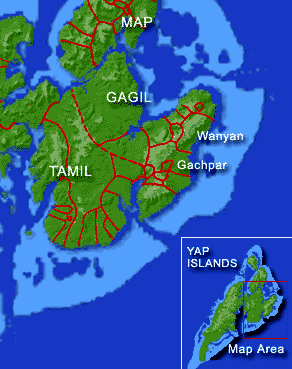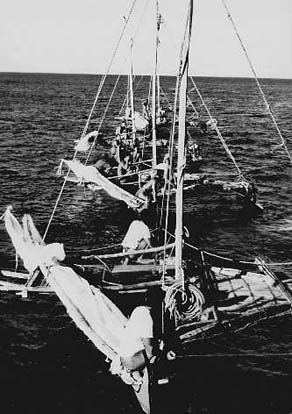 "And after that they used to bring coconut fiber and lavalava, copra candy, copra oil, and coconut rope. And we used to give them food, turmeric, baskets made by Yapese women (which is different from what they used to make). At this time, we used to give them thuw, which the men used to wear.
"Now we have many things we used to exchange like this: liquor, and rice, ramen, coffee, like before only certain things because we were really poor at that time. So here is how the sawey began."
"Sawey is a name of a basket" says Stanley. "When we go fishing with line and pole, the sawey is a basket you put under your neck, hanging on your chest, so when you get a catch, you just bring the fish in, then you kill the fish right inside the basket hanging there. That's the name for this relationship, because it's where you collect what you catch, and you come home with a full basket. So on Yap, we carry the basket and they fill it up; you empty it and they fill it up more."