"He could not grab the canoe," Yaad says, "so he kept on swimming after the canoe until they got into Gagil, to a place between Gachpar and Wanyaan that we call Tathil.
"There, all the kids from Gachpar and Wanyaan were playing," Pitmag notes, "taking their canoes and sailing them back and forth in between the two villages. So Filtey joined the game. But he always won the game."
"Going to Wanyaan, he won—that means going to the North," Yaad relates. "Going toward Gachpar, that means going to the South, he won. Every way they went, he won.
Pitmag says, "The kids from Gachpar and Wanyaan said, 'look at his guy, do you know where he comes from?' And then they broke his canoe. And beat him. And then ran away from him and left him there."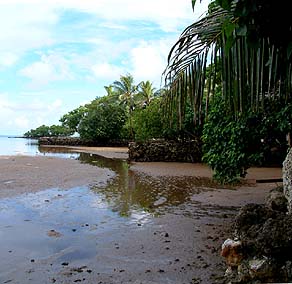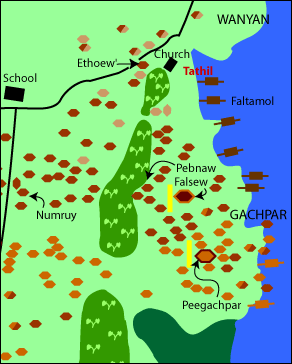 "He was crying, and while he was crying he sang a song, calling his mother: 'Oh Liomarer, Oh Liomarer, why did you tell me, your mother is from Yap, and your father is from Yap, and they keep on beating me? Oh Liomarer, Oh Liomarer…' That's what the crying is saying."
"He kept on singing this while he was crying," Yaad says, "and some of the men of the Men's House listened, they said, 'Hey, there is something wrong with that canoe-racer. You want to get that boy,' because they heard that he was calling his mother, which is Liomarer. And the mother is related to them.
"So they went and tell him to come at the house, and they keep on asking him, 'Who are you?' 'My name is Filtey.' 'What is your mother's name?' 'Liomarer.' 'Where is she?' 'She's up there,' and he point to the East. 'And where do you come from?' 'I came from there.' 'Where?' 'Ulithi,' 'Oh, is there any island, or land over there?' – 'Yes, that's where I came from.' 'Oh, can we go with you?'"
"And he said, 'No, you can not go with me.' 'Why? We want to meet your mother.' 'She told me if I bring people, people from here to her, and when I go, she will die.' 'Oh, no that's not true. That's a lie.'
"But the mother had told him, when he brings people from Gachpar to Ulithi, and when he gets close to the land, if he sees a ripe banana—even a small banana but it's already ripe—then that's the sign that she has died.
"But the people of Gachpar village didn't listen, they kept on pushing to go with him to Ulithi. So they went. And when they got close, ALL the bananas on the island were ripe. All of them, even the small ones, ripe, all of them. And the leaves of the bananas had turned yellow. And Filtey cried.
"'Why you are crying?'" they asked. "'I'm crying because I know my mother has passed away, like she told me. But I'm not going to rush up here.'"