"And then we talked here and whatever comes back from that end down here, that's what we're going to do. And they'll say 'Okay, you guys go fishing,' and we'd go fishing. We have to change the roof attached to the canoe house, then that's what we're going to do. But it has to come from that end.
"Every day, every morning, this is where it goes out from—whatever will happen that day will comes out from here. And when they meet at that end, things that they plan that night, then someone brings the information down there. They talk about it and then they pass it down here, and then we do it."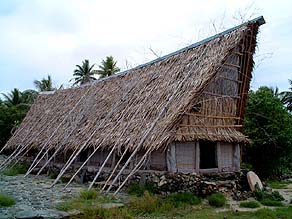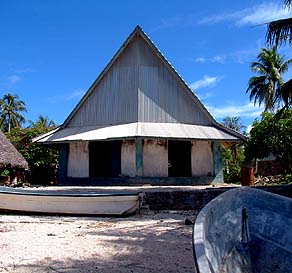 "Now we have a concrete Men's House," Hosay says. "But we tried to imitate the local style, the previous one that was brought down by the typhoon. The local style, if you see those Men's Houses in Yap, it looks almost like that. Before, each island tried to make a very big Men's House and a fancy roofing, to compete. Just like that.
"There was one in Falalop that they replaced with a concrete one. The local one here, some of those posts were really big. And there was one post in the middle that was even bigger in diameter. Why that house got blown off, it was because it had been there so long that the wood became rotten. But the typhoon was very strong, too."