"First we take the left breast meat, which is set aside for Filtey and taken to the Women's House. And then we just cut the rest to take out from the whole turtle shell. And then the mtaang do the cutting: we open the turtle, we take out everything and then we chop, people have to chop, and then when all the turtle is in small pieces, that's when we have to do the dividing.
"But Falalop people, if they brought the turtle, then after we open and get what we're supposed to take, we give them what they should take, then they go back home."
"Not everybody in the lagoon gets some of this turtle. Just people here on Mogmog, but if they want, they have to come over, and stay here during the butchering. Then as newcomers, they will have share, no problem with that. Once a canoe or a boat from Asor or from Fedraey arrives, it is certain that they will have some meat out of that turtle that we have in Rool'ong."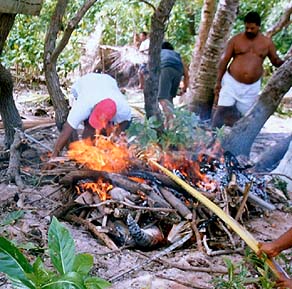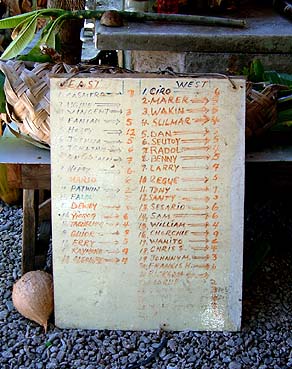 "We don't separate the parts of the turtle. We just chop it in small pieces so that we can accommodate every family, and put them on some coconut leaves. Just mix them, just put them together in one bunch, one pile. When we get one kind of meat, then 'O.K., lets do the dividing. How many households on the east side?' 'Oh, maybe 16, 18. 'How many on the west side?' 'Oh, this and this and this.' 'O.K., then you two, do the east and then me and this guy will do the west.'
So, when you start, you go and reach the end of the line, then you should check how the others are doing. Have they reached the end of the line, or are they somewhere in the middle? Otherwise, if you continue, then some people will have most of the share. So we have to follow and repeat, until we are out of this certain type of meat. 'O.K., I'm out of this type of meat, the right side of the breast meat.' 'O.K., I'm out of this, how many pieces? Maybe 10 or 11 pieces.' 'Just set them aside,' then we set them aside. O.K., then lets go to the next type of meat.'
"So we go until it's all equally divided. Then we go to the liver, then we go to the lungs, just like that. So everybody gets every different meat. Except the intestines—that's already up here, where the chief sits."